4.5 Megawatt Array at DuPont in Cernay, France, Features Advanced Materials
CERNAY, France, June 17, 2014 – DuPont recently celebrated the completion of its largest solar power installation to date by inaugurating a 4.5 megawatt (MW) solar power plant at its facility in Cernay, France. This is one of 13 solar installations worldwide on DuPont land, which together generate over 11 million kilowatt hours of electricity per year. The company's deployment of solar power continues to expand, consistent with its aim to address the growing global demand for energy while reducing dependence on fossil fuels.

Panorama of DuPont Cernay Solar Installation
DuPont Cernay 4.5 megawatt solar park in France – the largest solar installation on DuPont land to-date and the largest ground-mounted solar park in Alsace, France.
Spread over 6 hectares (15 acres), the Cernay facility features 18,400 crystalline silicon solar panels, manufactured by Jinko Solar, a global leader in the solar industry. The solar panels feature advanced materials from DuPont designed to improve the power output, durability and return on investment for solar energy systems. The panels are made with DuPont™ Tedlar® polyvinyl fluoride film-based backsheets, which are the only material proven to protect solar panels for more than 30 years even in extreme outdoor conditions, and DuPont™ Solamet® photovoltaic metallization pastes that help ensure maximum power output. The Cernay installation was connected to the grid in March 2014 and is expected to produce 5 million kilowatt hours (kWh) of solar-generated electricity each year, which is roughly the equivalent to the amount of electricity 2,000 households consume every year in France.
The project was developed by Hanau Energies, a French project developer and investor in solar installations, and was built in a record time of two months. It falls under a 20-year power purchase agreement with energy provider Eléctricité Réseau Distribution France (ERDF).
"We are extremely proud to partner with a global player like DuPont on this project in France. The solar park in Cernay is a perfect illustration for how advanced and reliable technology and best practices in installation, operations and maintenance can be put into practice," said Jean-Luc Westphal, president, Hanau Energies.
The project, supported by local municipal authorities, is aligned with Cernay's federation of municipalities aim to preserve resources and limit its environmental footprint. At the global and national levels, the development of solar and other renewable energy sources are expected to grow in the overall energy mix. According to industry analyst IHS, France's annual installation of solar is expected to increase by 50 percent in 2014 to exceed 800MW and should keep growing steadily over the following years. Globally, solar is expected to grow 20 percent annually each of the next several years.
"The solar park in Cernay is a prime example of DuPont demonstrating its commitment to develop collaborative and innovative solutions and helping to ensure a more energy secure future," said Martin Virot, country leader, DuPont France. "We are pleased to see this project realized in France, leveraging our advanced materials to ensure a well-performing, long-term source of electricity as we strive to meet the growing global energy demand more sustainably."
"The Cernay solar park is a brilliant showcase of socially responsible investment and collaboration between the private and public sectors," Member of Parliament and Mayor of Cernay, Michel Sordi concluded. "I congratulate DuPont, who continues to be at the forefront of science and technology and has developed multiple projects in the region for over 30 years."
DuPont Cernay Solar Park Inauguration
From left to right: Mr. Bohrer, economy councillor, Cernay, Mr. Vogt, regional councillor, Mr. Westphal, CEO Hanau Energies, Mr. Horny, economy vice president of the federation of municipalities, Mrs Goetschy, environment and sustainability vice president of the federation of municipalities, Mr. Bollaert, DuPont Cernay site manager.
DuPont is the leading global supplier of specialty materials to the solar energy industry. More than half of the world's 400 million solar panels installed since 1975 have DuPont materials in them. To learn more, please visit http://photovoltaics.dupont.com.
DuPont (NYSE: DD) has been bringing world-class science and engineering to the global marketplace in the form of innovative products, materials, and services since 1802. The company believes that by collaborating with customers, governments, NGOs, and thought leaders we can help find solutions to such global challenges as providing enough healthy food for people everywhere, decreasing dependence on fossil fuels, and protecting life and the environment. For additional information about DuPont and its commitment to inclusive innovation, please visit http://www.dupont.com.
Forward-Looking Statements: This new release contains forward-looking statements which may be identified by their use of words like "plans," "expects," "will," "believes," "intents," "estimates," "anticipates" or other words of similar meaning. All statements that address expectations or projections about the future, including statements about the company's growth strategy, product development, regulatory approval, market position, anticipated benefits of acquisitions, outcome of contingencies, such as litigation and environmental matters, expenditures and financial results, are forward-looking statements. Forward-looking statements are not guarantees of future performance and are based on certain assumptions and expectations of future events which may not be realized. Forward-looking statements also involve risks and uncertainties, many of which are beyond the company's control. Some of the important factors that could cause the company's actual results to differ materially from those projected in any such forward-looking statements are: fluctuations in energy and raw material prices; failure to develop and market new products and optimally manage product life cycles; significant litigation and environmental matters; failure to appropriately manage process safety and product stewardship issues; changes in laws and regulations or political conditions; global economic and capital markets conditions, such as inflation, interest and currency exchange rates; business or supply disruptions; security threats, such as acts of sabotage, terrorism of war, weather events and natural disasters; ability to protect and enforce the company's intellectual property rights; successful integration of acquired businesses and separation of underperforming or non-strategic assets or businesses and successful completion of the proposed spinoff of the Performance Chemicals segment including ability to fully realize the expected benefits of the proposed spinoff. The company undertakes no duty to update any forward-looking statements as a result of future developments or new information.
Featured Product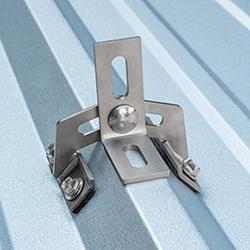 Explore new lines of income for your solar installation business with QuickBOLT's Stone Coated Steel roof mounts designed in partnership with metal roof manufacturers themselves. These SCS roof mounts work on all metal tile profiles and will help you bring in money you're missing out on. By not driving into the roofing material, QuickBOLT's Stone Coated Steel roof hooks maintain the integrity of the roof. Install with ease and confidence knowing your roof is protected against the harsh elements that these hooks are designed for.