The Fronius USA Service Provider training program is a valuable and informative training platform.
Completing the Fronius Service Provider Program trainings is necessary to perform field service work on Fronius PV system inverters. After participation and completion of the Fronius Service Provider product trainings, installers are also able to buy inverter replacement service components and PC boards for minimal cost and optimal efficiency, limiting customer system downtime. The upcoming training dates available are listed below:

July 22 - 24 USA Headquarters, Portage, Indiana. Fronius USA Products covered include Fronius Galvo, Fronius IG Plus and the Fronius CL.
August 12 – 13 Orlando, Florida. Fronius USA Products covered include Fronius Galvo and Fronius IG Plus.
September 16 – 17 West Coast Training Location TBD. Fronius USA Products covered include Fronius Galvo and Fronius IG Plus.
Register Online Today
The course, involving interactive hands-on training, also includes meals and snacks at the facility. Course registrants are to arrange their own hotel and/or travel options in advance. The cost of each product training course is $295 per registrant per day. Currently, there are 2,300 worldwide, certified Fronius Service Providers. To register online, visit www.fronius-usa.com. For more information on the course, please call 219-734-5666 or email pv-training-usa@fronius.com.
Fronius_Authorized_Service_Provider_300dpi
As a Certified Fronius Service Provider, you can have all necessary parts for field servicing on hand, giving you the upper hand in competition by offering the least amount of service time and cost savings for your customer. In addition to receiving NABCEP credits for your training, you will also receive the valuable hands-on experience in Fronius inverters such as the Fronius Galvo, Fronius IG Plus and the Fronius CL. There is an industry-leading service reimbursement for in-warranty service of $250 for Fronius Service Providers.
About Fronius USA Solar Energy Division
Fronius USA LLC, headquartered in Portage, Indiana, is the leader in photovoltaic (PV) system inverters and applicable accessories. The company is a part of a global network and subsidiary of Fronius International GmbH, headquartered in Wels, Austria. Fronius USA LLC has three divisions: Perfect Welding, Solar Energy and Perfect Charging. Through innovation and new technologies, Fronius USA has become a resource for quality service, products and innovations to the growing solar industry. For more information, visit www.fronius-usa.com.
Featured Product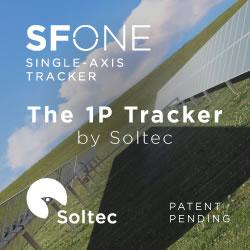 Under the slogan "engineered for greatness", the SF8 tracker aims to revolutionize the photovoltaic market with its new minimum 2x60 configuration and 4 to 6-strings. This tracker is elegantly designed while it reinforces its structure to perform in any terrain. In addition, the SF8 tracker increases the rigidity of its structure by 22% more than the previous generation of Soltec trackers, the SF7. The SF8 is specially designed for larger 72 and 78 cell modules, an increasing market trend.