With over 90 years' experience in the electrical equipment market, Socomec has market-leading expertise in the design and manufacture of fuse protection systems for both personnel and equipment – providing the highest levels of power availability and protection for critical systems.
Fuse Monitoring Devices

Socomec's range of Fuse Monitoring Devices (FMD) has been engineered to monitor and relay the status of standard fuses (without strikers). Socomec's Fuse Monitoring Devices 10 and 30 remotely identify any blown fuse, therefore protecting motors from overload during single phase operation.
The FMD enables the use of all types of standard fuse (DIN, BS, UL) without the need for striker fuse control.
Furthermore, the use of Socomec's FMD provides a visual indication of blown fuses as well as a test function to verify the correct operation of the device; the ideal solution for status requirements.
The FMD 30 also provides a power reserve, guaranteeing continuity of the visual information function when the door is open and the cabinet powered OFF.
As with all Socomec integrated power solution products, the FMD range has been designed with rapid integration and flexibility in mind.
Supplied by a direct connection to the fuse banks via the universal connection kit, all connectors are bistable relay and supply. The FMD 10 and 30 are modular and can be mounted both at the base of the cabinet or on the door – or even fixed directly to a fuse combination switch such as Socomec's FUSERBLOC.
Featured Product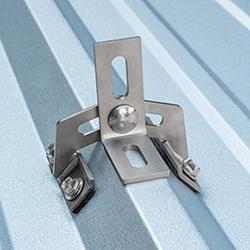 They have been changing the game for 10 years with their original Top Mount line for Asphalt Shingle roofs, and by now supplying one of the widest ranges of solar mounts in North America. From their patented products, to the custom production services they offer, QuickBOLT has been working with solar installers for nearly a decade to make solar installations easier than ever before.