Details Available on SolarCity's Blog; Elon Musk, Peter Rive and Lyndon Rive to Discuss Live at 10 AM ET / 7 AM PT
SAN MATEO, Calif., June 17, 2014 -- SolarCity Corporation

(Nasdaq:SCTY), has signed a definitive agreement to acquire Silevo, a solar
technology and manufacturing company whose modules have achieved a unique
combination of high energy output and low cost. The transaction was
announced, and its significance described in detail, in a post from
SolarCity Chairman Elon Musk, Co-founder and Chief Technology Officer Peter
Rive and Co-founder and Chief Executive Officer Lyndon Rive on SolarCity's
blog, available at:
http://blog.solarcity.com/silevo/. Mr. Musk and Messrs. Rive will host a
conference call to discuss the proposed acquisition today, Tuesday, June 17,
2014, at 10:00 a.m. Eastern Time. For additional details regarding the
proposed acquisition, please review our current report on Form 8-K filed
today with the Securities and Exchange Commission.
The conference call can be accessed live over the phone by dialing
1-877-407-0784, or for international callers, 1-201-689-8560. A replay will
be available two hours after the call and can be accessed by dialing
1-877-870-5176, or for international callers, 1-858-384-5517.
The passcode for the live call and the replay is 13585224. The replay will
be available until June 24, 2014.
Interested investors and other parties may also listen to a simultaneous
webcast of the conference call by logging on at the "Events and
Presentations" link of the Investor Relations section of the Company's
website at http://investors.solarcity.com/events.cfm. The on-line replay
will be available for a limited time beginning immediately following the
call.
About SolarCity
SolarCity(R) (Nasdaq:SCTY) provides clean energy. The company has disrupted
the century-old energy industry by providing renewable electricity directly
to homeowners, businesses and government organizations for less than they
spend on utility bills. SolarCity gives customers control of their energy
costs to protect them from rising rates. The company makes solar energy easy
by taking care of everything from design and permitting to monitoring and
maintenance.
SolarCity currently serves 15 states and signs a new customer every two
minutes. Visit the company online at www.solarcity.com and follow the
company on Facebook & Twitter.
Featured Product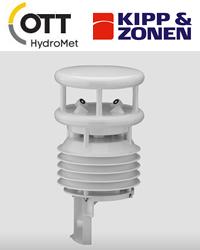 The WS50PV is an affordable, compact all-in-one weather sensor measuring the most critical parameters for commercial and industrial PV monitoring. Equipped with a suite of professional measuring sensors, the WS50PV can handle air temperature, relative humidity, barometric pressure, wind direction, and wind speed in one efficient housing to simplify mounting. Add an external temperature or rain sensor to the single-wire digital Modbus interface for fast and easy integration. The WS50PV is the tool you need for unlocking solar energy performance.