SolarMax USA Introduces Arc Fault Detection and Interruption Protection
SolarMax, a Swiss based global pure-play photovoltaic (PV) inverter company with U.S. headquarters in Atlanta, GA, and more than 20 years of PV inverter experience, announced today it has introduced an Arc Fault Detection and Interruption (AFDI) solution for the SolarMax USA MT A Series string inverters.

"Arc fault protection is a safety mechanism, particularly as input voltages of up to 1,000V become more common in commercial PV applications," said Walter Marusak, product manager, SolarMax USA, Inc. "Protecting our customers and their solar installments is paramount and we are pleased to integrate the most advanced technology into our solar inverters to adhere to the latest UL standards and NEC requirements."
Arc fault protection detects and interrupts PV system faults in order to prevent direct current (DC) conductor and arc flash incidents before they happen. First in 2011 and now in 2014, article 690.11 of the National Electrical Code (NEC) specifies that grid-connected PV systems must use DC arc fault protection.
SolarMax USA is offering an integrated ADFI solution for the MT A series string inverters. The solution uses arc fault detectors (AFD's) certified according to UL 1699B. The solution supports an AFD on each of our MPPT trackers of the inverter with each tracker supporting one or two strings. Upon detection of an arc fault, the inverter will automatically stop all current flow and trip a visual alarm signal. The inverter will be shutdown until it is reset and operation can resume.
The SolarMax USA ADFI solution is available immediately for new installations or can be integrated via a field retrofit. Contact SolarMax USA for more information.
Featured Product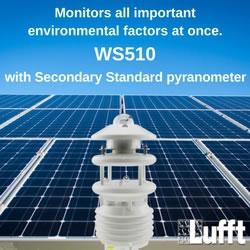 Professional weather sensors form the heart of large solar plants supporting their operation and performance. Lufft was the first manufacturer to combine several sensors in one housing, bringing the largest multiparameter weather sensor family with 19 members into being. Many of them are well-suited for solar site assessment and continuous monitoring. The most commonly used one is the WS600 delivering data on temperature, air pressure, wind, relative humidity and precipitation. Through its open protocol, it can easily be attached to radiation sensors e.g. from Kipp&Zonen. Other models have an integrated Silicon, Second Class or Secondary Standard radiation sensor.