Commercial Solar Interests Sneak Property Tax Exemption Extension into State Budget Deal, Despite Fact Extension Doesn't Expire until 2017 and Solar is Booming
SACRAMENTO, Calif. – The California Wind Energy Association, Geothermal Energy Association and California Biomass Energy Alliance today are asking Governor Brown to veto a solar property tax exemption that eluded the normal legislative process and was put into the state budget deal over Father's Day weekend. Given the exemption does not expire until 2017, there was plenty of time for supporters to introduce legislation to allow for open debate of the merits of this policy, especially in light of the fact that the solar industry is thriving.

"There is no reason for the State Legislature and Governor Brown to extend a property tax exemption to large scale solar energy projects at this time," said Nancy Rader, executive director of the California Wind Energy Association. "Proponents have time to introduce legislation which would allow discussion of the feasibility of providing a state subsidy to one renewable technology and to more thoroughly examine the costs and benefits to state and local economies."
The original intent of the property tax exemption was to help stimulate what was once a fledgling industry. Today, solar PV is thriving and utility-scale solar is expected to increase more than 1,200 percent between 2012 and 2020, according to California Public Utilities Commission (CPUC) projections. This is in stark contrast to the outlook for other renewables like geothermal and biomass, which the CPUC predicts will decrease nearly 50 percent by 2020 due to expiring contracts and utility procurement policies under which solar resources have fared well.
"What is disturbing is this tax break for the solar industry comes at a time when existing biomass projects are shutting down," added Julee Malinowski-Ball, executive director for the California Biomass Energy Alliance. "Wind and geothermal renewable energy producers are also facing challenges in getting utilities to recontract for their existing resources. California needs these resources to balance our energy portfolio and meet long-term greenhouse gas reduction goals."
There is legislation and an open CPUC proceeding to deal with portions of the recontracting issue, specifically how to ensure the cost of integrating competing resources into the state electric grid is considered in the utility procurement process. The purpose is to promote energy diversity by creating a more balanced playing field for all competing renewable resources.
"There is no doubt solar energy will continue to be an important energy resource for California," said Karl Gawell, executive director of the Geothermal Energy Association. "But giving an industry-specific tax break to solar energy will only make it more difficult to develop other renewable resources that provide significant benefits to state and local economies, the environment, and energy security."
The California Wind Energy Association (CalWEA) is a non-profit corporation supported by members of the wind energy industry, including turbine manufacturers, project developers and owners, component suppliers, support contractors and others (www.calwea.org).The Geothermal Energy Association (GEA) is a trade association comprised of U.S. companies that support the expanded use of geothermal energy and are developing geothermal resources worldwide for electrical power generation and direct-heat uses (www.geo-energy.org.) The California Biomass Energy Alliance (CBEA) works on behalf of its members to promote biomass power as a means to reach California's environmental and economic goals (www.calbiomass.org).
Featured Product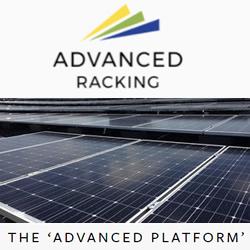 The 'Advanced Platform' simplifies the installation process by using universal mounting hardware that works perfectly across all roof types. Smart roof connection kits then connect to the specific roof's surface. The Advanced Platform is versatile: Our common design can be your single solution for all roof types.