Companies from up and down the solar supply chain exhibit in 2014 to drive business growth
SAN FRANCISCO, June 18, 2014 -- Approximately 550 solar exhibitors will showcase the latest technologies and innovations across the solar supply chain in San Francisco at this year's Intersolar North America , the most attended industry exhibition and conference in North America for solar professionals to exchange information and develop business opportunities. Exhibitors cite the value of business connections developed on the show floor as a key reason they return each year to Intersolar North America, co-located with SEMICON West, the annual tradeshow for the micro- and nano-electronics manufacturing industries.

"Canadian Solar looks forward to Intersolar North America every year. Not only is it a time to celebrate the dynamic achievements and developments in the market, it has consistently proven to be a lucrative channel to introduce new products and solutions. Canadian Solar has exciting offerings this year and we cannot wait to share them with our customers and partners!" said Songul Atacan, director of marketing for Canadian Solar Americas, solar module manufacturer.
Intersolar North America plans to welcome approximately 18,000 visitors to the Moscone Center exhibition halls with SEMICON West. Exhibitors from a variety of market segments are represented on the exhibition floor; PV cells, modules and systems, energy storage technologies, balance of system components, mounting and tracking systems, PV production technology and solar heating/cooling technologies will be on display. Many companies from across all exhibition segments, such as SolarWorld Americas, LLC., Advanced Energy, Schletter, Inc., JinkoSolar (U.S.) Inc., ABB Inc., Canadian Solar Inc., Eaton, SCHMID Group, SolarMax USA, Inc., and TMEIC Corporation are returning exhibitors. The growing E-Mobility sector, which combines PV power systems, energy storage and electric vehicles, will feature solar carports from Baja Construction and electric vehicles from BMW at the E-Mobility Special Exhibit on Level 2 (booth 8047).
"Intersolar provides an excellent opportunity for face-to-face discussions with our current customers, as well as to meet new customers and established developers and integrators looking for lowest cost mounting system alternatives," commented Ed Grover, vice president of business development at Schletter, developer of solar mounting system solutions.
"ABB finds Intersolar North America to be a very important show for not only the US market but for the western hemisphere. Due to its highly desirable location in the San Francisco Bay Area, it is an easily accessible venue for the major players in the US and global markets to convene," said Bob Stojanovic, director of solar power in North America for ABB, Inc. "We meet equipment suppliers, developers and EPC's at this event to discuss business across a multitude of topics and levels."
Many exhibitors take advantage of other opportunities to increase brand awareness and drive business growth at Intersolar North America. The Innovation & Application Stage and the electrical energy storage (ees) Forum offer the opportunity for exhibitors to share insights on topics ranging from integrating storage solutions to technology advances and trends. In addition, twelve exhibiting companies will offer technical training workshops with for three NABCEP Continuing Education credits each at the Moscone Center for installers and other solar practitioners. For example, Solectria Renewables will present on commercial and utility-scale design considerations and Quick Mount PV will explain roofing and fire codes to attendees. Visitors interested in these courses must register online for a $50 fee per workshop. These practical sessions complement a program offered by NAATBatt on energy storage and CALSEIA's Contractor Day convened to sharpen the skills of seasoned and new contractors alike.
Additionally, five Intersolar exhibitors – Eaton, First Solar, Princeton Power Systems, Solaire Generation and Trina Solar – have the distinction of being named finalists for the 2014 Solar Projects in North America AWARD and will deliver presentations on their projects before the AWARD ceremony on Tuesday, July 8th. Following the project presentations, the winner of the AWARD will be announced. Many of the products that contributed to the success of these projects will be featured on the show floor.
"Princeton Power Systems is thrilled to participate in Intersolar North America as an award nominee for Solar Projects in North America, speaker and exhibitor," said Darren Hammell, co-founder and chief strategy officer for Princeton Power Systems, designer and manufacturer of solar microgrid solutions. "Intersolar is the world's leading exhibition for the solar industry and it allows us to network with key partners and companies from around the globe. We are excited to showcase our operation of an independent power system on the landmark Alcatraz Island in the San Francisco Bay which eliminated more than 80 percent of the fossil fuels previously used to power the island."
Intersolar North America's exhibition is on the cusp of innovation in the solar industry, presenting new segments each year that drive visitor traffic to the Intersolar exhibition hall and showcase innovative uses of solar technology. In 2014, Intersolar North America will host four special exhibits: Solar Rollers, Spartan Superway, PV 60 and E-Mobility. The Solar Rollers (booth 8247) will display educational solar-powered remote control cars touring the country to inspire energy and engineering students; the Spartan Superway (booth 7045) will demonstrate the potential for a solar-powered automated transit network; and the PV 60 exhibit (booth 7033) will celebrate the 60th birthday of the modern solar cell. These displays draw visitors to the exhibition and complement the advancements at booths from innovators across the supply chain.
"Intersolar North America's success each year is in large part due to the loyal solar professionals that prioritize Intersolar as a crucial part of their marketing strategy," said Markus Elsasser and Klaus W. Seilnacht in a joint statement, respective CEOs of the Intersolar organizing companies, Solar Promotion International and FMMI International GmbH. "The 2014 show welcomes back popular exhibitors from years past and new companies with innovative storage solutions, e-mobility technologies and beyond, all with the common mission to make solar a larger part of our global energy mix."
About Intersolar North America With events spanning four continents, Intersolar is the world's leading exhibition series for the solar industry and its partners. It unites people and companies from around the world with the aim of increasing the share of solar power in our energy supply.
Since its establishment in 2008, Intersolar North America has become the most attended solar event and the premier networking platform for the North American solar industry. Co-located with SEMICON West, it takes place annually at the Moscone Center in San Francisco, California, the United States' pioneering solar market.
The event's exhibition and conference both focus on the areas of photovoltaics, PV production technologies, energy storage and solar thermal technologies. Since being founded, Intersolar has become the most important industry platform for manufacturers, suppliers, distributors, service providers and partners of the solar industry.
A total of 576 exhibitors and 17,163 trade visitors participated in Intersolar North America in 2013. The conference featured more than 50 sessions with more than 200 speakers and approximately 1,600 attendees.
With more than 20 years of experience, Intersolar has the unique ability to bring together members of the solar industry from across the world's most influential markets. Intersolar exhibitions and conferences are held in Munich, San Francisco, Mumbai, Beijing and Sao Paulo. Starting in 2014, these global events will be complemented by the Intersolar Summits, which will take place in emerging and growing markets worldwide.
For more information on Intersolar North America, please visit: www.intersolar.us
Organizers: Intersolar North America is organized by Solar Promotion International GmbH, Pforzheim and Freiburg Management and Marketing International GmbH (FMMI).
Featured Product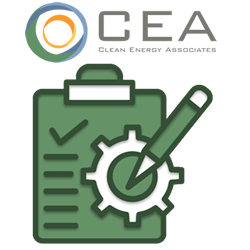 Clean Energy Associates provides a complete quality assurance solution that covers the entire product lifecycle of PV modules, storage systems, and every Balance of Sy stem (BOS) component. CEA's experienced on-the-ground and international team of quality control engineers and account managers offer an unparalleled quality assurance presence that can protect solar and storage investments and ensure future energy-producing viability for the life of the product.