City and State Distinguish Themselves as Geothermal Leaders of Western U.S.
Reno, Nev. (June 18, 2014)—The Geothermal Energy Association (GEA) is pleased to be holding its fourth annual National Geothermal Summit Tuesday, August 5 and Wednesday, August 6 in Reno, Nevada. The leading forum for western state policy discussions, the National Geothermal Summit will bring together policy leaders, utilities and industry professionals to discuss the opportunities and challenges facing the industry.

"Geothermal power is a clean, affordable renewable energy resource, but for the industry to achieve its potential, state and federal policies must line up with industry needs," noted Karl Gawell. "By stimulating dialogue on critical issues, the Summit hopes to make a difference in the industry's future."
"As a leading geothermal developer who's brought a project online in Nevada nearly every year for the past decade, we look forward to working together with the various participants of the Summit and embracing this as a springboard toward future development of geothermal in the U.S.," said Bob Sullivan, Vice-President of Business Development, Ormat, which is co-host of the Summit. "We're eager to hear the 'Future of the RPS' discussions that will be featured on the Summit's agenda. Key players from the regulatory and utility sectors will provide their vision and, with that, we'll get a sneak peek into the future of geothermal."
The Summit is made possible with the support of the City of Reno, Economic Development Authority of Western Nevada (EDAWN) and the Great Basin Center for Geothermal Energy. The Silver State is well represented with policy leadership participating, including Senator Kelvin Atkinson, Nevada Senate District 4; Assemblyman David Bobzien, Nevada Assembly 21; Rebecca Wagner, Commissioner, Public Utilities Commission of Nevada; and Paul Thomsen, Director, Governor's Office of Energy, State of Nevada.
"The City of Reno is host to numerous geothermal companies and has enough geothermal production within the city limits to power the entire residential load. We are staunch supporters of the industry. We are also proud of our University of Nevada, Reno, which is an international geothermal leader," said The Honorable Bob Cashell, City of Reno Mayor. "From the Governor and the Legislature to myself and the rest of the Reno City Council, Nevada's elected officials are supportive of developing renewable energy resources and providing business and political support to ensure success of the industry."
"While Nevada has excelled at developing geothermal, we're not done yet! The State of Nevada is committed to the development and exportation of renewable energy by removing barriers and developing better business models. The Governor's Office is involved in this leading Geothermal Policy Summit to hear from Industry and build on their expertise as we look to continue to grow Nevada's geothermal development capabilities," noted Paul Thomsen, Director of the Nevada Governor's Office of Energy.
Thomsen continued: "I hope the Summit highlights and facilities proactive discussion that leads to a roadmap of what the industry needs to do to compete in a changing market place. We have learned from our neighbors to the west that Variable Energy Integration comes at a cost. Can geothermal capitalize on those costs? We see transmission opening up new markets for Nevada based resources. Can geothermal capitalize on these new markets? What is the role of geothermal in emerging energy imbalance markets? Can geothermal move beyond the RPS?"
"Given changes that support the growth of geothermal, much of the region and even the state could be run on geothermal energy alone," said Mike Kazmierski, President and CEO of EDAWN. "The industry must be properly treated and incentivized as a renewable energy industry to flourish."
Event and registration details can be found at http://www.geo-energy.org/nationalgeothermalsummit/Main.aspx. For more information, to request press credentials, or to schedule an interview with a GEA representative, please contact Shawna McGregor, The Rosen Group, 917 971 7852 or shawna@rosengrouppr.com.
About the Geothermal Energy Association:
The Geothermal Energy Association (GEA) is a trade association comprised of U.S. companies that support the expanded use of geothermal energy and are developing geothermal resources worldwide for electrical power generation and direct-heat uses. GEA advocates for public policies that will promote the development and utilization of geothermal resources, provides a forum for the industry to discuss issues and problems, encourages research and development to improve geothermal technologies, presents industry views to governmental organizations, provides assistance for the export of geothermal goods and services, compiles statistical data about the geothermal industry, and conducts education and outreach projects. For more information, please visit www.geo-energy.org. Subscribe to GEA's newsletter here. Follow GEA on Twitter. Become a fan on Facebook.
Featured Product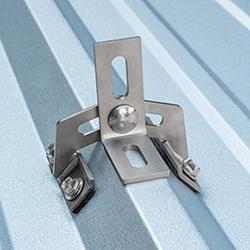 Explore new lines of income for your solar installation business with QuickBOLT's Stone Coated Steel roof mounts designed in partnership with metal roof manufacturers themselves. These SCS roof mounts work on all metal tile profiles and will help you bring in money you're missing out on. By not driving into the roofing material, QuickBOLT's Stone Coated Steel roof hooks maintain the integrity of the roof. Install with ease and confidence knowing your roof is protected against the harsh elements that these hooks are designed for.