Growing Energy Labs Inc. (Geli) has completed and interconnected California's first grid-tied, solar-integrated EV (electric vehicle) fast charging station optimized by battery energy storage.
Benicia, California June 18, 2014

Growing Energy Labs Inc. (Geli) today announced the commercial operation of the first grid-tied, solar-integrated EV (electric vehicle) fast charging station optimized by energy storage. Located at City Hall in the City of Benicia, the system was designed by San Francisco-based Geli and funded with a $79,200 California Energy Commission grant administered jointly by the Association of Bay Area Governments (ABAG) and EV Communities Alliance. The installation also received support from California's Self-Generation Incentive Program (SGIP). The project was implemented by a consortium of project partners including Growing Energy Labs Inc. (Geli), CODA Energy, Bass Electric, BTC Power, Energy Vault, McCalmont Engineering, and Ideal Power.
Geli co-founder Ryan Wartena said, "Geli is proud to present the very first fast EV charger powered by a solar array and a battery energy storage system, all interconnected to the power grid. We have worked with many wonderful companies to deploy this first of a kind system, enabling the City of Benicia to manage its energy like computers manage data. This is the beginning of what we call the Internet of Energy."
"By combining Geli's EOS with CODA Energy storage, we enhance the value of renewable generation. Whether it's renewable generation for "plug-in" vehicles or as it's applied to other dynamic loads, this combined system provides critical balance and creates the real-world foundation of a sustainable grid and a zero-carbon transportation system. " said Peter Nortman, COO of CODA Energy.
Controlled by the Geli EOS (Energy Operating System), the charger intelligently determines when to use solar energy generated from City Hall's rooftop PV panels and when to draw stored solar energy from the CODA Core™ ESS (energy storage system) based on the price of power and energy. The entire system is comprised of the Geli EOS, a 20kW/40kWh CODA Core ESS with an Ideal Power battery converter, three EV chargers including a BTC Power Level 3 EV Fast Charger, and a 175kW solar PV array. In addition to intelligent EV charging, the system also performs peak shaving services, saving the City of Benicia money on their time-of-use electricity tariff.
A typical EV charging session takes 20-30 minutes, depending on a vehicle's state of charge and battery capacity. The BTC Level 3 Faster Charger is equipped with the two standard connectors now in the marketplace, the CHADeMO connector used by most EVs today, and the new SAE "Combo" connector used by some American and German brands. Available immediately for public use, charging is limited to one-hour per charging session (most cars can get a full charge in 20-30 minutes) and the cost is based on how much energy is used and at what time of day it is used.
Featured Product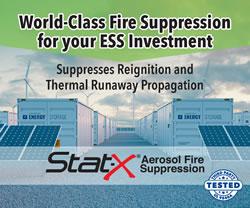 Stat-X® Condensed Aerosol Fire Suppression is a solution for energy storage systems (ESS) and battery energy storage systems (BESS) applications. This includes in-building, containerized, and in-cabinet applications. The Stat-X product was tested for efficacy in putting out Li-ion battery fires. It was found that the Stat-X agent successfully extinguished single and double cell battery fires. This testing was conducted in parallel with a large battery fire testing program. DNV GL Energy conducted the testing and validated effectiveness of the Stat-X aerosol agent on cell level Li-ion battery fires.