Offshore Wind's leadings Utilities, IPPs and Developers answered questions on their key areas of focus for the next 12 months in Wind Energy Update's first half offshore wind survey of 2014.
Revealing that 54% of the 162 senior executives from companies including DONG Energy, E.ON, Scottish Power Renewables, Vattenfall and other major stakeholders are putting major focus on construction of offshore wind for the next 12 months, the results highlight logistics management within construction as an area needing critical attention.

With EWEA estimating that by 2020 40GW of offshore wind will be producing 148TWh annually, industry analysts will agree that offshore wind is one of the most rapidly developing businesses in the energy market and as with any evolving industry the key stakeholders regularly update their processes and re-allocate their budgets to suit market needs. The survey pin points which teams are getting the biggest budgets and which areas within those teams are getting critical attention, exposing areas that the major buyers are looking to improve.
The results of the survey have been compiled into a document called 'Key Growth Trends in Offshore Wind' and outline where Utilities, Independent Power Producers and Developers are placing budgets, awarding contracts and looking to the supply chain for innovation.
Follow this link to get your free copy of the survey summary: http://goo.gl/lqjstC
Or contact Victoria Auckland at victoria@windenergyupdate.com
Featured Product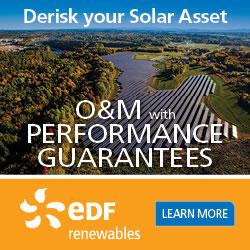 EDF Renewables offers the same innovative solutions that maximize the performance of our own 5.2 GW of installed projects. Because we're not an equipment manufacturer, our recommendations are transparent and data-driven. We cover the entire project lifecycle: from pre-commissioning support, through warranty and post warranty operation, to late stage and decommissioning.