1.7 MW solar electric system is airport's first BIPV project
SHANGHAI – June 20, 2014 – Upsolar, a leading provider of solar PV modules, today announced it has completed a 1.7 MW solar electric system at the Shanghai Pudong International Airport. The building-integrated photovoltaic (BIPV) project is now generating enough clean power to serve the needs of the airport's parking facility and load devices, and also serves as a shading structure for its air-conditioning units.

Occupying 15,000 square meters between Terminals 1 and 2, the project was constructed with Upsolar's modules UP-S245P. Featuring Solrif frames from Schweizer, these products replace traditional roofing to enable BIPV systems. The system is Upsolar's second at the airport, following the 2010 installation of a solar-powered watering system for the foliage in Terminal 2.
"Forward-thinking solar technology providers are now incorporating sleek design elements into their products to meet the aesthetic demands of customers, and all signs are pointing to BIPV as a key driver of renewable energy in the coming years," said Upsolar CEO Zhe Jiang. "With high-profile projects like this under our belts, Upsolar is staking its claim at the forefront of this movement."
The Shanghai Pudong International Airport is one of the largest travel hubs in China. Located just 30 kilometers from downtown Shanghai, the facility draws approximately 60 million passengers each year. As a major focal point in one of the world's biggest cities, airport officials made the decision to enhance the facility's sustainability with the help of renewable energy.
The Shanghai Pudong International Airport BIPV system qualified for China's solar incentive program, which offers performance-based rewards over a 20-year period. Current estimates indicate the project will achieve full payback in less than 10 years.
Featured Product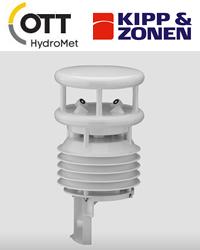 The WS50PV is an affordable, compact all-in-one weather sensor measuring the most critical parameters for commercial and industrial PV monitoring. Equipped with a suite of professional measuring sensors, the WS50PV can handle air temperature, relative humidity, barometric pressure, wind direction, and wind speed in one efficient housing to simplify mounting. Add an external temperature or rain sensor to the single-wire digital Modbus interface for fast and easy integration. The WS50PV is the tool you need for unlocking solar energy performance.