Middle East NGV Summit will have policy makers talk about their plans and how they plan to encourage the NGV industry in the region.
Natural gas is almost 75% less costlier than oil and has proved to help reduce the biggest concerns that countries today are facing regarding CO2 emission especially from Heavy Duty Vehicles (HDV). Fazal Ali Khan, CNG Development Manager at Emirates Gas LLC (ENOC Group) will talk about, how Natural Gas Vehicles (NGV) are not an option but a preferred choice, at the Middle East NGV Summit. He will provide the audience with information on how to identify the challenges in using gasoline & diesel as the preferred choice of fuel and understanding the technical, safety and commercial advantages.

In Middle East, development of NGV market will also help develop the gas distribution infrastructure resulting in over all growth. Highlighting UAE's leadership in establishing a successful NGV infrastructure, Taufiq Tai from Dubai Taxi Corporation Roads & Transport Authority (RTA) will present his views on dimensions & directions of NGV Industry in UAE. He will further elaborate on the parameters to gauge the effectiveness of the project and the key challenges on the way ahead for the project.
NGV is still a niche market, from the perspective of transport (less than 1% of world road fuel consumption) and natural gas markets (less than 1% of world gas demand). In a panel discussion with Fazal Ali Khan and Taufiq Tai. the attendees will be able to connect and collaborate on NGV market development in Middle East. The Middle East NGV Summit will be held on 8 - 10 September 2014 at Abu Dhabi, UAE.
Samer Mawas, Regional Marketing Manager from Al Hamra Taxi, RAK Transport will dispense his advice on the investment plan for NGV fleets used in public transportation. He will apprise on laying out the investment phases for the plan and devising the guidelines to ensure that the plan sticks to its deadlines. Samer will also share his views on investing in the right technologies and minimizing the overhead costs.
Media Contact:
Tanaya Priya
T : +971-4-6091570 | E : tanaya.priya@fleminggulf.com
Featured Product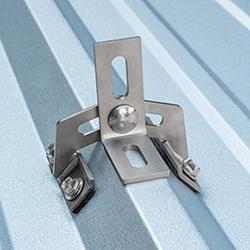 Error-Proof Compression: The QB2 doesn't leave any room for user error when it comes to Microflashing® compression. Once the Dual Drive Shoulder Screw is secured, the Microflashing® is compressed. Only 3 Components: The QB2 is comprised of Microflashing®, an L-foot and a Dual Drive Shoulder Screw. No more Nuts needed to tighten and secure the L-foot! Not only does this simplify the installation process, it also cuts down the installation time.