Company to showcase tracker products at booth #9638; CEO Frederic Conchy to speak at conference
SAN FRANCISCO, June 24, 2014 -- Exosun, Inc., a leading provider of solar tracking technologies and associated engineering services for utility-scale plants, is celebrating a successful first year of operation in the North American market during Intersolar North America, held July 8 – 10, in San Francisco. Visitors are invited to meet with Exosun at booth #9638 and attend the "Balance of Systems" session featuring Exosun's CEO Frederic Conchy, on Tuesday, July 8. The company's musical group, Exoband, will also take the stage at the 2014 Solar Battle of the Bands event on Thursday, July 10.

"We entered this booming market to meet a clear demand for more efficient, reliable and cost-effective tracker solutions to maximize plant yield and accelerate ROI," said Frederic Conchy, CEO and co-founder of Exosun. "Our team's focus on delivering top-tier products and engineering support is driving the early success we've enjoyed in the North American market."
Since establishing its North American headquarters in South San Francisco in July 2013, Exosun has achieved key milestones, including:
*Major certifications: Exosun is the first tracker company to secure UL 3703 compliance for its Exotrack® HZ horizontal, single-axis trackers, underscoring the product's reliability. The company also demonstrated exceptional durability in third-party wind testing.
*Local manufacturing: The company has manufacturing agreements in both the U.S. and Mexico, in addition to suppliers in Europe, to increase production capacity, reduce transportation costs for North American customers, and ensure product quality.
*High-profile customer validation: Exotrack® HZ was chosen for a 30 MW project in California for Abengoa and EDP Renewables, scheduled for completion at the end of August.
*Local team growth: Exosun's North American team has more than doubled to support market demand.
*Expert support services: Exosun offers North American customers superior product associated engineering support services, partnering with them from project design to tracker commissioning to long-term O&M. Watch this video to learn more.
"The utility-scale market in North America represents an enormous opportunity for Exosun," said Jay Johnson, Exosun's vice president of business development for the USA. "We've laid the critical groundwork for the company to capitalize on the sector's momentum over the past year, and we look forward to gaining additional momentum in the years to come."
About Exosun
Founded in June 2007 in France, Exosun is an expert in solar tracking for PV and CPV systems. Exosun designs, develops and supplies innovative solar tracking technologies for utility-scale solar plants. Exosun also provides a full range of product associated engineering support services. Designed to meet the highest quality standards, Exosun's solar solutions provide predictable, reliable performances with state-of-the-art technology. Highly competitive on price, quality, and yield, Exosun offers all the technical and environmental qualities necessary to create the best solutions for large-scale ground-mounted solar projects.
Featured Product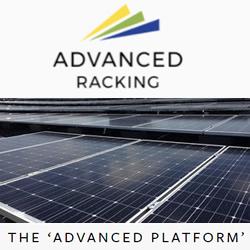 The 'Advanced Platform' simplifies the installation process by using universal mounting hardware that works perfectly across all roof types. Smart roof connection kits then connect to the specific roof's surface. The Advanced Platform is versatile: Our common design can be your single solution for all roof types.