Intersolar North America exhibit in San Francisco, July 8-10, 2014
REDWOOD CITY, Calif., June 23, 2014 -- Mechatron-Solar will participate at the Intersolar North America exhibit in San Francisco, July 8-10, 2014. Mechatron-Solar will host booth 9645 in this premier worldwide event with over 22,000 trade visitors! At Mechatron's booth, customers will have the opportunity to see a full-scale dual-axis tracker on the floor and get a comprehensive picture of the technology and innovation of our product as well as learning all about the financial benefits of the dual-axis over any other tracker solution in the international tracker's marketplace.

Mechatron-Solar, Inc. with headquarters in Redwood City, CA, is a world-class manufacturer in design, development and implementation of superior photovoltaic trackers. Our innovative single-axis (S140), dual-axis (D170) and CPV (C140) solar trackers are designed to maximize performance at any given climate and terrain conditions. The solar trackers are currently being tested at the PV Evolution Labs in Davis, California with superior preliminary results and will be presented to various EPCs, developers and solar financial investors on June 21st, 2014!
The solar tracker models incorporate state-of-the art hydraulic motion mechanisms for which the company holds international patents and unsurpassed rotation accuracy in maximizing solar radiation intake to yield up to 40% greater energy production. All models ensure greater financial benefits of installed capacity compared to other mounting systems.
Mechatron-Solar propels on its impressive growth in Europe since 2007 and proudly holds its place on the global energy market map as one of the most innovative and dynamic companies.
For more information visit us at: www.mechatron-solar.com or contact us at: mechatron@mechatron-solar.com
Featured Product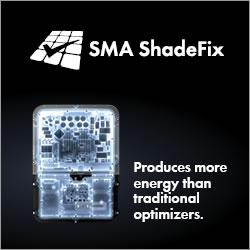 A recent university study showed SMA ShadeFix optimization produces more energy than traditional optimizers. It also utilizes far fewer components, reducing the need for costly service visits. Systems with ShadeFix optimization and SunSpec certified shutdown devices are the ideal solution for residential and commercial PV systems. Visit SMA's website to learn more and download the whitepaper.