Design, deliver and install 2 HV offshore substations and 1 HV onshore substation---- Supply and secure low carbon electricity to over 785,000 households---- Reduce emissions of 1,250,000 tons of CO2
Mechelen, June 26, 2014: Avantha Group Company CG, along with the other consortium partners Fabricom and Iemants, has been selected by Van Oord, for the offshore wind project "Gemini" in the Netherlands. As part of the scope CG, will design, deliver and install 2 high voltage (HV) offshore substations and 1 HV onshore substation. The volume of the order for the consortium is in excess of €150Mn. CG's scope covers approx. 30% of the overall contract. The project is expected to start in the second quarter of 2014 and to be completed in 2016.

The Gemini project consists of 2 offshore wind farms i.e. Buitengaats (300MW) and ZeeEnergie (300MW) and is located 85 kms north of the island of Schiermonnikoog in the Dutch North Sea. The total 600MW of installed capacity will produce electricity for over 785,000 households which equals a reduction in emissions of 1,250,000 tons of CO2.
To achieve the desired development potential of this project, CG will design and engineer the overall electrical HV system, manufacture and supply all key equipment and connect the onshore substation to the 400 kV Tennet high voltage grid.
Furthermore, the Gemini project builds on CG's successful track record. It is the 10th offshore grid connection project secured since 2008. CG's connecting technology and products have been chosen for its high reliability, high performance and cost effectiveness. Over the past years CG has developed an innovative AC connection link for offshore wind farms. CG's proven technology already used in other platforms on the North Sea (a.o.Belwind, Humber Gateway, Northwind) has minimal weight, hence lowers costs and is designed for optimal and minimal maintenance compared with traditional high voltage AC or DC solutions.
Avantha Group Company CG's CEO and Managing Director Laurent Demortier said "we are delighted that Van Oord has awarded CG a 'further order'. The transaction is consistent with our renewable energy strategy. It provides yet another opportunity to utilize CG's unique technology & expertise in wind offshore connection (HVAC) and to assist the Government and our clients in reducing carbon emissions and increasing the supply of green energy".
About CG
Avantha Group Company CG is a global pioneering leader in the management and application of electrical energy. With more than 15,000 employees across its operations in around 85 countries, CG provides electrical products, systems and services for utilities, power generation, industries, and consumers. The company is organized into four business groups: Power, Industrial, Automation and Consumer. CG clocks US$ 2.3 billion in revenues from product lines that cover the entire value chain of engineering offerings.
For more information on CG, please visit: www.cgglobal.com.
About Avantha
The Rs. 25,000 crores (US$4bn) Avantha Group is one of India's leading business conglomerates. Its successful entities in diversified sectors include Crompton Greaves (power transmission and distribution equipment and services), BILT (paper and pulp), The Global Green Company Limited (food processing), Biltech Building Elements Limited (infrastructure), Avantha Power (energy), Salient Business Solutions Limited (IT and ITES), Jg Glass (glass containers) .
With a global footprint, the Group operates in 90 countries with more than 25,000 employees worldwide. Led by Gautam Thapar, Avantha demonstrates strong leadership globally and emerges as a focused corporate, leveraging its knowledge, leadership and operations, adding lasting value for its stakeholders and investors.
For more information on Avantha, please visit www.avanthagroup.com.
Featured Product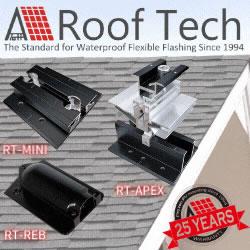 Now Roof Tech brings you the most innovative, watertight mounting systems ever developed for solar photovoltaic systems. Designed and manufactured exclusively for us by Japan's longtime leader in roofing technologies, Roof Tech products are 100% code-compliant and offer fast, simple installation and huge savings on shipping costs due to their compact, rail-less design. Learn more about our full line of versatile PV mounting solutions now available for residential installations. The next generation in rooftop solar mounting solutions."