PluggedSolar announces their newest product, the PluggedSolar Solo (240 W) plug in solar panel kit that comes ready to install with one individual solar panel, a micro grid tie inverter, and a power cord that plugs into any electrical outlet.
Houston, TX June 30, 2014

PluggedSolar announces its latest breakthrough product, the PluggedSolar Solo (240 W), an individual solar panel that comes with a micro grid tie inverter, and plugs directly into any electrical wall outlet just like an appliance. The Solo was created as in an effort to make solar power accessible to every family by making it simple, easy, and affordable. "I wanted to create a product that would be plug and play, and would be within the budget of most families, regardless of their income," said CEO Sunil Sinha.
What is so innovative about the PluggedSolar Solo (240 W) solar panel kit is that it is expandable. You can buy it as an individual panel, or you can string together up to eight Solo 240 Watt panels onto one plug. "This allows our customers to start small, and gradually build their solar panel array over time until their energy costs are cut to zero," said Sinha. This PluggedSolar Solo (240 W) solar panel system is ideal for anyone living in a private home or an apartment. It is small enough that it can fit on your patio or balcony, and does not need to be mounted to the roof making the system perfect for renters. The Solo is also portable, and can be moved to a new home or apartment just like a television.
The price for the PluggedSolar Solo (240 W) solar pv kit is $799, and is estimated to generate about 400 KWHs of electricity per year. This means that for less than $1,000, you can take a step towards using more renewable energy as well as save money with the unlimited power of the sun making the planet safer for current and future generations, while they save money on their monthly utility costs. The PluggedSolar Solo can also be combined with the PluggedSolar LifeGuard 2 kW plug-in power backup system to power appliances off the grid.
About PluggedSolar:
The company is a USA-based multinational solar power corporation that focuses on appropriate innovative renewable energy products, with an aim to solve energy and environment issues of the world. PluggedS olar focuses on plug-in solar panel systems that are affordable, and install in less than one day. All of their home solar panel kits come pre-configured and pre-wired system to be plug-and-play, and immediately start working to reduce your utility bill.
Featured Product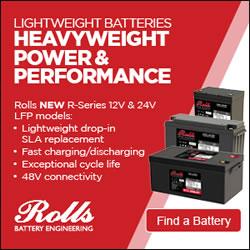 Designed for true drop-in replacement, Rolls new R-Series 12V & 24V LFP lithium models offer a maintenance-free lightweight flooded and SLA alternative in four popular BCI case sizes with fast charge/discharge capability. Rolls custom built-in BMS provides all necessary operating protections for safe operation and seamless integration for deep cycle replacement in 12V, 24V or 48V systems.