IMS, IPL, SunWize Technologies, Blue Renewable Energy partner on project
INDIANAPOLIS, Tuesday, July 1, 2014 – A ribbon-cutting ceremony, held earlier today, marked the opening of the Indianapolis Motor Speedway Solar Farm located adjacent to the backstretch of the famed IMS 2.5-mile oval.

The IMS Solar Farm is the largest solar farm at any sporting facility in the world and features a total of 39,312 solar modules that generate 9.0 megawatts of power, which is equal to offsetting 10,288 tons of carbon annually. IMS used a portion of its 1,000 acre campus that was under-utilized and without a specific development plan.
SunWize Technologies, Inc., of San Jose, Calif., and Phoenix-based Blue Renewable Energy, co-developed the project. Blue Renewable Energy entered into a land-lease agreement with IMS to build the system on the property. The system was designed, engineered and installed by SunWize Technologies. Clenera and Swinerton Builders finalized the engineering and constructed the project on behalf of Centaurus Renewable Energy. Indianapolis Power & Light Company (IPL), an AES Company, is the system off-taker under the terms of a Power Purchase Agreement and will own the Solar Renewable Energy Credits (SRECs) produced by the solar power system.
"In 1909, the Indianapolis Motor Speedway was constructed in part to help advance the automotive industry, which at that time was the new technology of the day," said J. Douglas Boles, Indianapolis Motor Speedway president. "Today, IMS is honored to be part of a partnership with IPL, SunWize and Blue Renewable Energy where innovation and technology are coming together to bring diversification of generation resources to this community. The unused land at the IMS property just east of the race track has been transformed into a solar energy production facility that will provide an alternative source of energy to IPL customers."
"Solar generation is an important component of IPL's commitment to developing renewable generation resources," said Ken Zagzebski, President of AES' U.S. Strategic Business Unit, parent company of IPL. "The new IMS solar farm will be a constant reminder to those who visit the largest spectator sporting facility in the world of the creative solutions taking place here in Indianapolis to increase sustainability."
"For over 100 years, the iconic IMS has broken its share of records. Now SunWize is honored to be part of the development and execution of this record-breaking solar project, the largest solar power system in the sporting world," said Scott Tonn, Principal and Managing Director of Tonn Investments, an investor of SunWize Technologies.
Indianapolis Motor Speedway Solar Farm Facts and Figures:
Total area of land parcel on which the solar farm is built: 68 acres
Net land area occupied by solar panels: 41.5 acres
Quantity of individual 48" x 72" photovoltaic solar panels: 39,314
Area of solar panels: 21.66 acres
Based on 1100 kWh per household per month, number of homes for which the solar farm has the ability to meet the energy needs of 1,000 homes.
Approximate quantity of power produced by one 48" by 72" solar panel: 230 watts, which can power any of these items:
Small appliance
LCD television
Window fan
Electric blanket
Desktop computer
About Indianapolis Motor Speedway
The Indianapolis Motor Speedway has been the worldwide leader in motorsports entertainment since it opened in 1909. The facility has hosted the Indianapolis 500, the world's largest single-day annual sporting event, since 1911, and also is the site of the Crown Royal Presents the "Your Hero's Name Here" 400 at the Brickyard and the Red Bull Indianapolis GP. The NASCAR Nationwide Series and TUDOR United SportsCar Championship also race at the Speedway. IMS is the world's largest spectator sporting facility and is the only venue to stage annual races in the Verizon IndyCar Series, NASCAR Sprint Cup Series, NASCAR Nationwide Series, TUDOR United SportsCar Championship and MotoGP. For more information, please visit www.ims.com.
About Blue Renewable Energy
Blue Renewable Energy is a late stage developer and financing partner specializing in renewable energy projects. The company provides complete turnkey solutions to assist its best-in-class partners and their clients in the pursuit of the benefits renewable energy offers. Blue Renewable Energy offers private ownership, adept funding, energy experts, buying power, industry knowledge of leadership, due diligence, confidentiality, flexibility and a full understanding of "Green Politics."
About SunWize Technologies
SunWize sells, finances and builds sustainable energy systems for the public, private and residential sectors. For over twenty years, customers have selected SunWize to deliver sustainable energy solutions on time and within budget. Based in San Jose with offices in CA, NY, OR, HI and AZ, SunWize has deployed 100s of MWs of solar throughout the Americas. For more information, visit www.sunwize.com.
About Indianapolis Power & Light Company
Indianapolis Power & Light Company provides retail electric service to more than 470,000 residential, commercial and industrial customers in Indianapolis, as well as portions of other Central Indiana communities surrounding Marion County. During its long history, IPL has supplied its customers with some of the lowest-cost, most reliable power in the country. For more information about the company, please visit www.IPLpower.com.
***
2014 ticket information: Ticket information is available for the remaining events in 2014 at the Indianapolis Motor Speedway – the Kroger Super Weekend at the Brickyard and the Red Bull Indianapolis GP.
Fans can order tickets at www.ims.com/tickets, by calling 800-822-INDY or 317-492-6700 between 8:00 a.m. - 5:00 p.m. (ET) Monday through Friday or by visiting the Ticket Office at the IMS Administration Building at the corner of Georgetown Road and 16th Street between 8:00 a.m. - 5:00 p.m. (ET) Monday through Friday.
Tickets for groups of 20 or more also are available. Contact the IMS Group Sales Department at (866) 221-8775 for more information.
Featured Product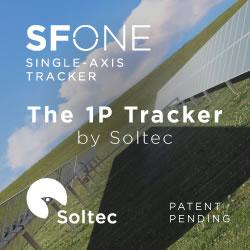 SFOne is the 1P single-axis tracker by Soltec. This tracker combines the mechanical simplicity with the extraordinary expertise of Soltec for more than 18 years. Specially designed for larger 72 an 78 cell modules, this tracker is self-powered thanks to its dedicated module, which results into a lower cost-operational power supply. The SFOne has a 5% less piles than standard competitor, what reduces a 75% the labor time.