- Heraeus PV to showcase new metallization pastes for Standard to UDLE and PERC cell designs
WEST CONSHOHOCKEN, Pa., July 1, 2014 -- The Heraeus Photovoltaics Business Unit will be attending Intersolar North America 2014 at the Moscone Center in San Francisco, California from July 8th through 10th, showcasing their new products for standard to ultra LDE cells and PERC cell designs during the exhibition.

"Heraeus Photovoltaics is pleased to be exhibiting at Intersolar NA for another year. The first metallization pastes for c-Si solar cells developed by Heraeus were created in North America and this region continues to be critical to our success", states Andreas Liebheit, Global Manager of the Heraeus Photovoltaics Business Unit. "At this year's show, we are proud to exhibit our SOL325 Series of pastes for PERC cell designs. This paste, along with our front-side metallization pastes, was used by the Institute for Solar Energy Research Hamelin (ISFH) to produce PERC cells with a record efficiency of 21.2%. We will also showcase our newest front-side metallization pastes for standard to ultra lightly doped emitter cells: the SOL9620 and SOL9621 Series. Our SOL9620 Series has shown excellent results on monocrystalline cells, with absolute efficiency gains up to 0.25%. Our SOL9621 Series has demonstrated greater than 0.10% absolute efficiency gains on crystalline silicon cells and possesses a flexible processing window, providing customers with very consistent cell efficiencies during production runs."
Heraeus will also be exhibiting their SOL9650 Series for n-type cell designs. To learn more about Heraeus' products and services for the photovoltaic industry, visit us at this year's Intersolar North America at the Moscone Center West Hall on level 1 in booth 7611. You can also go to www.pvsilverpaste.com for more information.
About the Heraeus Photovoltaics Business Unit
The Heraeus Photovoltaics Business Unit is an industry leading developer and manufacturer of silver metallization pastes for the photovoltaic industry. For over 40 years, Heraeus has built a reputation of innovation, extensive research and new product development in thick film technologies for some of the most prominent companies within a variety of industries. In the field of photovoltaics, the Heraeus Photovoltaics Business Unit applies this history and its innovative technology to offer metallization pastes for solar cell applications. The Heraeus SOL Series of silver pastes is specially formulated to provide higher efficiencies and wider processing windows, resulting in better yields and higher output for cell manufacturers.
The Hanau based precious metals and technology group Heraeus is a globally active family run enterprise with a history of more than 160 years. We provide high end solutions to our customers to strengthen their long-term competitive position. Our areas of competence include precious metals, materials and technologies, sensors, biomaterials and medical devices, quartz glass and specialty light sources. In the financial year 2013, Heraeus achieved revenues from the sales of products of €3.6 billion, while the revenues from precious metal trading were €13.5 billion. With about 12,500 employees in more than 110 companies world-wide, Heraeus holds leading positions in the global markets it participates.
Featured Product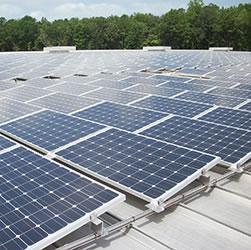 The Power Rail™ Commercial Mounting System is designed with the professional PV solar installer in mind. Both the XD/UD and LD/MD rails feature single tool assembly with the revolutionary patented RAD™ Lock-in-Place bolt for fast and secure module clamping. The high strength marine-grade aluminum rails include an integral wiring channel for securing cables and providing a professional finish.