World Smart Energy Week Osaka will serve as a new platform for firms interested in investing deeper into the Japanese smart/renewable energy market to find new business and connections. ---- The overall exhibit area will be doubling from 2013 with 200 exhibitors and 20,000 professional visitors expected to attend. ---- Various firms from Japan and overseas have confirmed their participation and the exhibit area covered by such overseas firms is also to double this year. ---- With high levels of satisfaction, both Osaka and Tokyo editions of World Smart Energy Week are selling out fast. The two shows will provide a firm and wide platform to conduct business in Japan.
(Tokyo, Japan) July 1, 2014 - Reed

Exhibitions Japan will be holding World Smart Energy Week Osaka
- the sister edition of World Smart Energy Week (World's leading
international smart/renewable energy trade show held annually in Tokyo) for
the
second time at INTEX OSAKA from September 3-5, 2014. Newly launched in
September 2013, World Smart Energy Osaka has formed a new
business platform for firms looking to invest deeper into the Japanese
smart/renewable energy market.
The show will be composed of 4 specialised exhibitions: PV EXPO OSAKA - 2nd
Int'l Photovoltaic Power Generation Expo Osaka
http://www.pvexpo-kansai.jp/en/,
PV SYSTEMS EXPO OSAKA - 2nd Int'l Photovoltaic Power Generation System Expo
Osaka http://www.pvs-kansai.jp/en/,
BATTERY JAPAN - 1st Int'l Rechargeable Battery Expo Osaka
http://www.battery-kansai.jp/en/ and 1st INT'L SMART GRID EXPO OSAKA
http://www.smartgrid-kansai.jp/en/
- all concurrently held under one roof.
This year's edition will be held with 200 exhibitors and 20,000 professional
visitors are expected to attend during the 3-day show period.
The overall size of the show is expected to double and with the increase in
the involvement of firms from overseas, the exhibit area
covered by overseas exhibitors is also forecasted to double.
Many major firms have already confirmed their participation for this year.
From the PV sector YINGLI GREEN ENERGY, JINKO SOLAR, CANADIAN SOLAR, ZHONGLI
TALESUN SOLAR, ZNSHINE PV-TECH,
KOREA TELECOM etc. will be joining as well as various local PV system
installation/integration, installation/mounting related devices
and materials, system component related firms.
For the newly launched BATTERY OSAKA and INT'L SMART GRID EXPO OSAKA: OSAKA
GAS, FUJI ELECTRIC, TABUCHI, DENSO,
NIHON GAISHI, FURUKAWA, TOYO TECHNICA, NAG SYSTEM etc. will be exhibiting
Conference sessions will be held parallel to the exhibitions throughout the
show period offering participants to catch insights into the rapidly
changing Japanese market. There will be 3 keynote sessions discussing the
current status and future outlook of the PV, renewable battery
and smart grid sectors. The sessions will be led by YINGLI GREEN ENERGY,
SOLAR FRONTIER, NTT FACILITIES, HITACHI CHEMICAL,
NGK INSULATORS, NIPPON CHEMI-CON, HITACHI CHEMICAL, TOSHIBA, IBM JAPAN and
KANSAI ELECTRIC POWER.
Special sessions on hot topics such as electricity liberalization in Japan
and smart community business outlook will also be held.
The Show Director, Yoichiro Ayabe is confident that World Smart Energy Week
Osaka with the Tokyo edition will provide further support in
expanding smart and renewable energy business throughout Japan and the
world.
"As there are many smart/renewable energy firms and projects originating
from western Japan, there is a large and untouched market waiting
to be explored through World Smart Energy Week Osaka. With our experience
and connections with the Tokyo show, we are confident that
World Smart Energy Week Osaka will become established as another key
industry trade show to seek new business opportunities and
connections in Japan."
He added "There were many visitors at last year's Osaka show who had not yet
participated in the Tokyo edition and overall satisfaction
of both Japanese and overseas exhibitors from last year were very high as
they were able to meet new quality customers especially from
western Japan. Numerous exhibitors have given us positive feedback about how
they found new business leads through the show.
We think this is the major factor causing the size of the show to double
this year. We will endure our efforts in putting together an even
more successful show this year and hope industry professionals will be able
to utilise both shows to benefit their future business."
Show Management has been receiving overwhelming numbers of inquiries for
exhibiting and booth space for both World Smart Energy Week Osaka 2014
and World Smart Energy Week 2015. Booths are selling out fast and the
majority of the space has been filled from an early stage.
With the ongoing boom of the Japanese market, both Osaka and Tokyo editions
of World Smart Energy Week is expected to continue its expansion.
The show will be a great gateway to find new business in Japan and a firm
platform to catch insights of the market and make connections with
other industry experts from across the globe.
For further information, visit the official show website
http://www.wsew.jp/en/ or contact Show Management.
Press inquiries: pr-eng.wsew.@reedexpo.co.jp
Exhibiting inquiries: wsew@reedexpo.co.jp
For visiting inquiries: visitor-eng.wsew@reedexpo.co.jp
To book free invitation tickets to visit the show, register at:
http://www.pvexpo-kansai.jp/en/inv/
Featured Product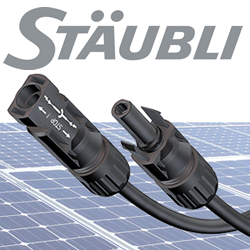 ​Stäubli Electrical Connectors are used on more than 300 GW, over 50% of the PV capacity worldwide. The MC4 family of UL and TUV listed products include connectors, in-line fuses, branch connectors, cable assembly and more.