Potential of home grown energy on show as industry calls on Government to help solar become subsidy-free
Tomorrow (Friday 4 July 2014) solar farms up and down the country will be opening their doors to the public in an effort to show what solar farms can do for rural areas in supporting local farmers and wildlife.

Local residents, schools, businesses and community groups will be making their way to nearby solar farms in their area to ask questions about how solar makes the electricity that lights their homes and powers their lives. This is the first such event of its kind and is being billed as a real opportunity for people to get up close and personal with this emerging technology.
The Solar Trade Association's Chief Executive Paul Barwell said:
"Solar is a secure, home-grown solution to Britain's dual crises of security of supply and spiralling energy bills. It means independence from fossil fuel imports and independence for consumers."
"Solar Independence Day is about involving local people and raising awareness of the facts: solar makes no noise, has no moving parts and produces no waste or carbon. In fact, it is Britain's most popular form of energy development."
The nationwide event is part of a wider '10 Commitments' push from the Solar Trade Association on the responsible development of solar farms. The industry is working to show how solar farms can be sited on low quality land, have minimal visual impact and can be used to enhance biodiversity.
Solar Independence Day follows recently published guidance on how solar farms can become biodiversity hotspots, supported by several leading UK conservation charities including the RSPB and the National Trust [1].
Jonathan Scurlock from the National Farmers Union, which supports the initiative, commented:
"Many people don't realise that solar farms can be used as havens for birds, wildflowers and endangered bumblebees, and can continue to be used for agriculture with sheep grazing between the rows of panels."
Polls have shown that 71% of people support well sited solar farms (YouGov) and 84% of people in Scotland would be happy or unconcerned about living close to a solar farm.
Solar Independence Day has received widespread support, with the Bumblebee Conservation Trust set to attend the Tavells solar farm in Hampshire, and the National Farmers Union to be represented at Wymeswold site near Loughborough. Children from St Bartholomew's CE Primary School will be attending the Dunsfold solar farm in Surrey – which is also home to the Top Gear racetrack. Children from Willersey CE Primary School in Gloucestershire have also spent the week painting bird, bat and hedgehog boxes for a new nearby farm.
Contrary to common perception solar panels in the UK produce 60% as much power as in the Sahara desert and panels work more efficiently in cooler British temperatures than in hot weather.
However the day is also about making a serious point about the Government's policy on solar farms. Solar Trade Association CEO Paul Barwell concluded:
"If the Government does as it says and pulls the rug out from under the UK's second cheapest mainstream renewable it will just mean more public spending on more expensive alternatives to meet climate targets."
"The cost of solar has fallen by 65% since this Government came to power. We want to get to the point where we can compete without public subsidy. But if our politicians hold solar back, if they do not provide a stable policy environment and a level playing field, we may never get there."
Featured Product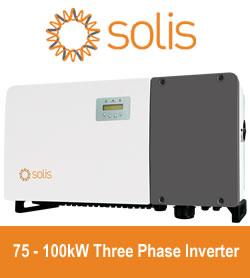 Solis75kW - 100kW series high-power string inverters are widely used in industrial and commercial rooftops. Solis's new three-phase string inverter is the first choice for industrial and commercial photovoltaics. 75-100kW three phase series string inverter have Maximum 28 strings input, support "Y" type connection in DC side. Maximum string input current 13A, support bifacial modules access.Supports anti-PID function to improve system efficiency.