The Swiss inverter manufacturer SolarMax has provided its technology to the Middle East for the first time by partnering with Qatar Solar Energy (QSE).
The Swiss inverter manufacturer SolarMax has provided its technology to the Middle East for the first time by partnering with Qatar Solar Energy (QSE), the largest solar technology development and manufacturing facility in the Middle East and North Africa (MENA) region. QSE's innovative roof-mounted panel systems, which will enhance the sustainability of its Doha-based headquarters, is utilizing SolarMax's string inverters to harness and transfer solar energy to power the facility. QSE selected SolarMax MT series for the installation due to its high efficiency and innovative and flexible multi-tracking concept, which enables the solar generator to be segmented specifically to minimise power losses which can arise from temporary shading.

"We are excited by our entry into the Middle East market with this great milestone, and look forward to developing future opportunities together with Qatar Solar Energy. Within the framework of this project, high quality and innovation are top priorities for both QSE and SolarMax, and this is a solid foundation for the beginning of a successful partnership," said Christoph von Bergen, CEO of SolarMax.
QSE combines research, technology development and the manufacturing of solar products in an integrated value chain to produce advanced highly efficient and cost-effective solar panels. The company has already achieved a manufacturing capacity of 300MW and is on a rapid path towards the expansion of its production to 2.5GW which would make Qatar one of the largest producers of solar power in the world. QSE collaborates with leading solar energy technology providers across the spectrum of solar energy production, including the Swiss company Meyer Burger.
"Qatar Solar Energy strives to incorporate environmentally-friendly principles into all aspects of its business. Consistent with our values and mission of sustainability across the entire solar energy production value chain, SolarMax's inverter delivery and effective support is instrumental in the smooth commissioning of our roof-mounted plant," said Salim Abbassi, CEO of QSE. "This additional component, combined with our other methods of reducing energy usage, allows our solar production facility to be even more sustainable and efficient."
The Swiss inverter manufacturer and the Qatari technology company plan on continuing their cooperation for future projects.
Featured Product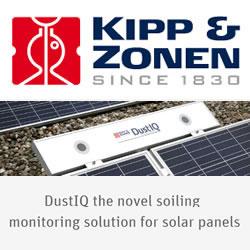 Soiling of the panel glass is one of the major problems in the rapidly expanding solar energy market, with the attendant loss of efficiency and reduction in performance ratios. Now, there's a new, simple and very cost-effective alternative. Based on Kipp & Zonen's unique Optical Soiling Measurement (OSM) technology, DustIQ can be easily added to new or existing solar arrays and integrated into plant management systems. The unit is mounted to the frame of a PV panel and does not need sunlight to operate. It continuously measures the transmission loss through glass caused by soiling, so that the reduction in light reaching the solar cells can be calculated.