Moscone Convention Center in San Francisco from July 8 – 10
WEST SACRAMENTO, Calif., July 3, 2014 -- Mounting Systems, Inc., the West Sacramento, CA manufacturer of residential, commercial and utility-scale PV mounting structures will introduce a range of new and significantly updated products at the Intersolar North America exhibition set for the Moscone Convention Center in San Francisco from July 8 – 10.

MSI will show its all-new, ballasted Lambda Light S+ (LLI S+) and Lambda Light EW+ (LLI EW+) products for commercial, flat roof PV arrays. Lambda Light S+ is a light-weight, highly economical flat roof system. The south-facing LLI S+ is engineered to minimize parts count and fast, easy assembly and installation.
The Lambda Light EW+ is a unique, East-West oriented system that provides numerous performance and grid-integration advantages, especially for array sites in the lower latitude regions. Extensive component preassembly contributes to the products' installation speed and cost-effectiveness.
Both products are fully wind-tunnel tested and are engineered to minimize parts counts. Module tilt angles of 10 degrees or 15 degrees for either system are user-selectable.
Also being shown at the Mounting Systems booth will be updated versions of the company's highly popular Sigma I XL and Sigma II open terrain systems. Designated Sigma I XL+ and Sigma II+, the new versions incorporate Mounting Systems' unique, Clickstone technology and optimized structural components that reduce material usage while maintaining structural strength.
About Mounting Systems
Mounting Systems, Inc., located in West Sacramento, CA is the US-based affiliate of Mounting Systems, GmbH, headquartered in Rangsdorf, Germany. In 2010, Mounting Systems, Inc. was established in West Sacramento, California as a manufacturer of racking systems and components for the U.S. and Canadian market. Mounting Systems, Inc. is ISO 9001 certified and in 2011, was honored with the "Patriotic Employer" award for its support of the National Guard and Reserve. Approximately 250 employees currently work for Mounting Systems worldwide. Together, Mounting Systems, Inc. and Mounting Systems GmbH have deployed more than 3 GW of PV racking structures.
Featured Product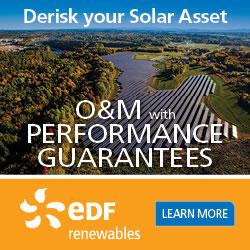 EDF Renewables offers the same innovative solutions that maximize the performance of our own 5.2 GW of installed projects. Because we're not an equipment manufacturer, our recommendations are transparent and data-driven. We cover the entire project lifecycle: from pre-commissioning support, through warranty and post warranty operation, to late stage and decommissioning.