2014 Intersolar show in San Francisco July 8th - July 10th
MIAMI, July 7, 2014 -- PWRstation Corp presents its all-new, mass produced solar energy delivery systems at the 2014 Intersolar show in San Francisco July 8th - July 10th, after recently attended the Intersolar Conference in Munich where it received multiple accolades and requests for distribution rights in Europe, the Middle East and South Africa.

The company's manufacturing approach for meeting increasing demand for powerful photovoltaic installations starting at 3kW brings substantial economies of scale to a global market largely dependent on customized systems. Ludovic Roche, PWRstation's Co-Founder and CEO for the Americas says, "Henry Ford introduced mass production to the automotive industry, we aim to do the same for the solar industry."
PWRstation recently agreed to proceed with leading solar mounting manufacturing firm, Schletter© Inc. to serve as its exclusive manufacturing partner for the Western Hemisphere. The move serves to expand PWRstation's support network of key partners throughout the Western Hemisphere as the firm prepares for the launch of its flagship product by end of 2014.
The PWRstation's patented "retractable" photovoltaic panel mounting system provides residential owners the flexibility to utilize idle areas of their properties including open yard space, car ports or swimming pools to generate electricity. Non-residential owners, including businesses, utilities, universities and government agencies can also utilize such spaces.
William Berenson, PWRstation's CMO says, "We're in favor of all forms of solar energy systems and we welcome EPC / system installers to consider the PWRstation's unique advantages for their own customers." Berenson adds, "Oftentimes, prospects may have 3-5 years of remaining roof life on their properties so timing of a fixed roof system may not make sense. In such situations, the PWRstation serves as a perfect alternative. PWRstations are also attractive solutions for customers who seek solar but consider PV panels unsightly atop their classic style or designer homes, or for customers who want solar but know they'll be relocating and want to take their solar investments with them."
As PWRstations are self-contained, powerful and portable, they are particularly effective in mobile and off-grid situations - including scientific and military expeditions, industrial mining, off-grid utility systems, solar farms, telecommunications, first responder emergency services, refugee centers, towns, and villages.
Robert Albertella, PWRstation's Co-Founder and CEO/EMEA for Europe says, "we're very excited about the imminent launch of our flagship product, the PWRstation 5000 (5kW model). As worldwide energy demand continues to rise, our unique solar energy delivery systems bring to customers simplicity, versatility and affordability – key brand attributes that PWRstation will soon come to stand for. Given PWRstations ability to automatically retract in case of a storm or fire, they also deliver added safety. We look forward to attending the Intersolar North America Conference (booth 9815) and finding new partners who will appreciate how our products can fit in their inventory of offerings."
For more information please visit: www.PWRstation.com
Featured Product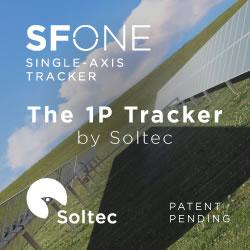 Soltec manufactures and supplies solar trackers designed and proven for extreme climate conditions, which is an ideal solution for any region's environment. Soltec's trackers are self-powered, requiring no additional PV module or grid-powered connection. Bifacial modules collect energy on both the front and rear sides, capturing reflected irradiance from the ground surface under and around the tracker and from other modules. Depending on site conditions, bifacial yield-gain can reach +30 percent.