The Solarize Troy program is designed to increase the adoption of solar energy and further reduce the overall cost of solar power.
LOUISVILLE, Colo., and TROY, N.Y., July 7, 2014 -- RGS

Energy (Nasdaq:RGSE), a nationwide leader of turnkey solar energy solutions
for residential, commercial, and utility customers, has been selected by
Solarize Troy, a non-profit purchasing cooperative, to bring solar
electricity to home and business owners in Troy, New York.
The Solarize Troy program is designed to increase the adoption of solar
energy and further reduce the overall cost of solar power. It offers
residents and businesses discounted pricing for solar through tiered
community-based incentives, and the savings grow as more members of a
community participate. Solarize Troy is managed by a volunteer group that
includes college students, community leaders, professors, designers and
environmental professionals.
"With so many vendors submitting proposals, it was initially a tough
decision, but in the end RGS Energy emerged as the clear choice," said Dan
Corda, a Solarize Troy member. "We're confident that with RGS Energy we will
receive quality solar systems and service at excellent prices."
RGS Energy will offer participating Solarize Troy home and business owners
the options to either purchase solar electricity systems directly or enter
into a lease.
"As one of the oldest and most established solar companies in the country,
our long-term commitment to customer service and quality installations make
RGS Energy an excellent partner for any community looking to launch a
Solarize program," said Jim Oliva, RGS Energy's director of sales. "In
addition, our local teams possess deep experience having installed solar
systems on thousands of homes, businesses and educational facilities making
us an ideal partner for further solar adoption initiatives."
Dennis Lacey, president of RGS Energy's Residential Solar division,
commented: "We have very deep roots in the entire North East including New
York and are proud to bring more solar to more customers. We anticipate the
Solarize Troy program will contribute to our record backlog in the region.
It reflects our gathering sales momentum, with more North Eastern sales in
the first half of this year than all of last year."
Since 2011, RGS Energy has participated in 14 Solarize initiatives
throughout the Northeast. These Solarize programs have resulted in more than
600 customers and four megawatts of contracted solar. In addition, the
number of small-scale, solar electricity projects in almost every community
doubled as a direct result of the program.
To learn more about the Solarize Troy initiative, visit xtroy.org/solarize.
About RGS EnergyRGS Energy (Nasdaq:RGSE) is one of the nation's pioneering
solar energy companies serving commercial, residential, and utility
customers. Beginning with one of the very first photovoltaic panels sold to
the public in the U.S. in 1978, the company has installed more than 22,500
solar power systems representing over 235 megawatts of 100% clean renewable
energy. RGS Energy makes it very convenient for customers to save on their
energy bills by providing a comprehensive solar solution, from design,
financing, permitting and installation to ongoing monitoring, maintenance
and support.
As one of the nation's largest and most experienced solar power players, the
company has 20 offices across the U.S. For more information, visit
RGSEnergy.com, on Facebook at www.facebook.com/rgsenergy and on Twitter at
https://twitter.com/rgsenergy. RGS Energy is a trade name and RGS Energy
makes filings with the Securities and Exchange Commission under its official
name "Real Goods Solar, Inc."
Featured Product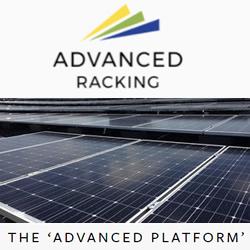 The 'Advanced Platform' simplifies the installation process by using universal mounting hardware that works perfectly across all roof types. Smart roof connection kits then connect to the specific roof's surface. The Advanced Platform is versatile: Our common design can be your single solution for all roof types.