The String Inverter Built Like a Micro Inverter
SANTA CLARA, Calif., July 8, 2014 -- HiQ Solar today announces the new Liberty 480V 3-phase, 1,000Vdc inverter. Aimed at commercial photovoltaic (PV) solar installations, it offers new benchmarks in ruggedness, power density and data reporting. With 8 kW packed into a NEMA6 enclosure and weighing only 24 lbs., the new product is ideal for rooftop, carport and other locations where it can be mounted in almost any location. Adding to this, the sealed, waterproof and silent package is particularly suitable for hostile environments such as desert, coastal and high altitude locations. It has peak efficiency above 98.5%, and conforms to UL1741. With a power density of 0.72 kW/kg, it has twice the power density of large string inverters and is therefore very price competitive with them.

Where other string inverters parallel several strings together, the Liberty inverter handles two 4 kW single strings individually, providing separate monitoring, MPPT and arc detection for each. This means an ideal level of management and monitoring for commercial-sized installations, with enough granularity to see issues as they arise without being swamped in data.
The HiQ Solar Liberty 480V PV inverter joins the existing HiQ 208V 3.5 kW Mini Inverter and is available now. For more information visit www.hiqsolar.com. The new product will be showcased at Intersolar North America in San Francisco, 8-10th July, 2014, Booth 8537.
About HiQ Solar
HiQ Solar is dedicated to innovation in the area of solar power and renewable energy.
Founded in 2009, the company draws on decades of industry experience in high-tech, with a veteran team from the precision communications test and measurement field. With a successful track record of bringing leading-edge products to market, we use a systematic approach to reliability and user-focused design. We are privately held and based in Silicon Valley, a world center for innovation.
Featured Product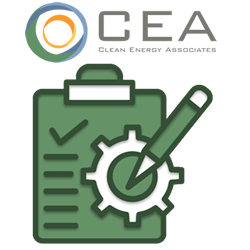 Clean Energy Associates provides a complete quality assurance solution that covers the entire product lifecycle of PV modules, storage systems, and every Balance of Sy stem (BOS) component. CEA's experienced on-the-ground and international team of quality control engineers and account managers offer an unparalleled quality assurance presence that can protect solar and storage investments and ensure future energy-producing viability for the life of the product.