Demos of ground-breaking software will be given at Intersolar North America July 8-10 in San Francisco
SAN FRANCISCO, July 8, 2014 -- Locus Energy, a solar monitoring and data analytics platform provider for the distributed solar photovoltaic (PV) market, today announced the launch of its advanced irradiance modeling tool, Virtual Irradiance™ (VI), which provides solar fleet operators with valuable data on the amount of sunlight that is striking the ground, enabling a highly accurate assessment of solar PV system performance.

The first release as part of Locus Energy's PVIQ suite of analytical tools, VI allows fleet managers to determine if a system is performing up to expectations based on the amount of sunlight that is available at a particular time and location. Such information drives down costs by improving operations and maintenance efficiency, thus helping to accelerate the widespread adoption of solar.
"VI enables the PV industry to identify which solar systems fail to meet performance expectations, assess how much value was lost and efficiently solve problems at an individual site or across an entire portfolio," said Michael Herzig, Locus Energy's CEO. "This is a powerful, intuitive and user-friendly tool that will be vital in helping solar fleet managers understand performance across a fleet and effectively handle O&M issues. As solar becomes increasingly common, VI is also expected to become an important tool in helping utilities integrate solar into the electricity grid," he added.
VI uses data from weather stations and satellite imagery to provide highly accurate, ground-level irradiance data for any location in the continental United States. For small- to medium- sized systems, VI eliminates the need for an on-site sensor, which may be prohibitively expensive. For larger systems at which an on-site sensor may already have been installed, VI can fill gaps in and validate sensor data, which can become skewed due to miscalibration, soiling and other factors.
"To sustain growth at the record levels of the past few years, the solar industry needs to find new ways to cut soft costs," said Pavel Molchanov, Sr. VP and Equity Research Analyst at Raymond James & Associates. "Locus' VI can be a useful tool for solar asset managers looking to efficiently keep tabs on their growing asset base and keep ancillary costs to a minimum."
Extra Space Storage, the nation's second largest owner and operator of self-storage properties and the nation's largest self-storage management company, with more than 700,000 units and approximately 78 million square feet of rentable space under management, is partnering with Locus Energy on VI to help manage its portfolio of 150 solar systems. The company chose VI because it provides the most accurate actionable information.
"As our solar fleet has grown, it became clear that we needed a more precise tool for assessing how our solar assets are performing," said Nathan Morrill, Extra Space Storage Inc.'s National Procurement Manager. "After working with VI, we are much more aware of how much energy each and every one of our sites should be producing, which helps us prioritize O&M activity."
VI may be used with existing system software or as an add-on to Locus Energy's SolarNOC™ (Network Operations Center) software, a cloud-based software application providing enterprise-class tools for fleet managers to collect, organize and assess performance data from a diverse set of solar PV assets. The filters of SolarNOC's customized dashboard provide an unprecedented level of control over how performance data is aggregated and displayed.
About Locus Energy
Locus Energy is a solar monitoring and data analytics platform provider for the distributed PV market spanning the residential, commercial and utility sectors with more than 40,000 systems deployed in North America. Locus Energy's cloud-based software aggregates, organizes and analyzes performance data from multiple sources, making it easier to access, manage and identify the causes of a solar system's failure to meet performance expectations. With the deepest intellectual property portfolio in the industry, Locus provides many of the largest utilities, capital providers, equipment manufacturers and asset managers with sophisticated software to track performance across distributed solar installations. Headquartered in Hoboken, N.J., Locus Energy also has an office San Francisco. For more information, please visit www.locusenergy.com.
About Extra Space Storage Inc.
Extra Space Storage Inc., headquartered in Salt Lake City, is a fully integrated, self-administered and self-managed real estate investment trust. As of March 31, 2014, the Company owned and/or operated 1,052 self-storage properties in 35 states, Washington, D.C. and Puerto Rico. The company's properties comprise approximately 700,000 units and approximately 78.0 million square feet of rentable space. The company is the second largest owner and/or operator of self-storage properties in the United States. For more information, go to www.extraspace.com.
Featured Product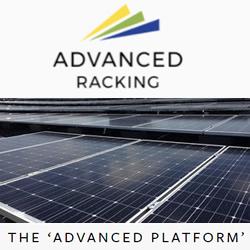 The 'Advanced Platform' simplifies the installation process by using universal mounting hardware that works perfectly across all roof types. Smart roof connection kits then connect to the specific roof's surface. The Advanced Platform is versatile: Our common design can be your single solution for all roof types.