Crown Estate announces new wave & tidal leases and plans for tidal range
The Crown Estate has boosted the UK wave and tidal sector today by confirming leasing agreements for new wave and tidal stream energy sites, as well as plans for a future leasing round for tidal range projects.

The leasing agreements announced today [1] will help bring forward five new wave and tidal stream project sites, where arrays of marine energy devices totalling up to 30MW could be deployed. There are currently no arrays of multiple devices in UK waters, only installations of single devices. The completion of the UK's first wave or tidal stream energy array will mark a major milestone for the industry and help unlock future investment in the sector.
The Crown Estate has also confirmed seabed rights for six new wave and tidal stream demonstration zones to facilitate innovation and commercialisation of new wave and tidal stream technologies. For the first time, locally-based organisations will be able to manage and sub-let parts of the seabed to a range of wave and tidal stream developers.
Separately, the Crown Estate has also announced plans for a leasing process later this summer for tidal range projects [2]. Tidal range projects typically use a barrage to capture the tide as it rises and then run the captured water through a turbine as the tide recedes to generate electricity, whereas tidal stream devices act like underwater wind turbines, generating power from underwater tidal currents.
Tidal range is a proven technology in places like France and Canada, but not yet in the UK. The most well-known proposal is the very large Severn Barrage scheme, which was rejected by the Government over financial and environmental concerns. The REA has long maintained that the phased development of several smaller tidal range sites is a sensible way forward, allowing industry to allay concerns over perceived environmental impacts and realise the potential of tidal range technology.
REA Head of Marine Renewable Dr Stephanie Merry said:
"Today's news is a huge boost for efforts to use our seas to deliver low-carbon, home-grown energy to reduce damage to the climate and improve our energy security.
"The wave and tidal sector is racing to get that first multiple device array into the water. Once the first one is deployed, potential investors will be more confident about funding further projects. It's helpful to have the seabed rights for such projects all tied up already.
"The plans for tidal range energy are just as exciting. In the past, tidal range had all its eggs in the Severn Barrage basket, but now the Crown Estate looks set to unlock the potential of several smaller sites across England and Wales, just as the REA has recommended. Even a project a fifth of the size of the Severn Barrage would provide 1% of UK electricity, so environmentally appropriate tidal barrages and lagoons are a prize well worth pursuing."
REA members EMEC and Siemens Marine Current Turbines are among those receiving leasing agreements from the Crown Estate. The wave and tidal stream leasing agreements have been granted for projects off the coasts of Scotland, Wales and the South West, as well as Strangford Lough in Northern Ireland. The tidal range leasing later this summer could unlock tidal barrage and lagoon projects that have already been proposed in the Wash and the Irish Sea.
Featured Product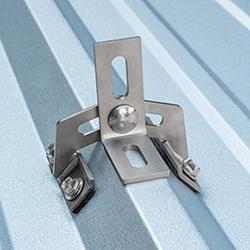 Explore new lines of income for your solar installation business with QuickBOLT's Stone Coated Steel roof mounts designed in partnership with metal roof manufacturers themselves. These SCS roof mounts work on all metal tile profiles and will help you bring in money you're missing out on. By not driving into the roofing material, QuickBOLT's Stone Coated Steel roof hooks maintain the integrity of the roof. Install with ease and confidence knowing your roof is protected against the harsh elements that these hooks are designed for.