"SEIA takes great pride in being a founding corporate member of Women in Solar Energy"
WASHINGTON, DC –The Solar Energy Industries Association (SEIA) today announced it has joined Women in Solar Energy, a 501(c)3 nonprofit and membership organization dedicated to promoting the advancement of women in one of the fastest-growing industries in the country.

"SEIA takes great pride in being a founding corporate member of Women in Solar Energy," said SEIA president and CEO Rhone Resch. "We recognize the great strides the solar industry has taken in terms of reaching out to women, and we look forward to continued progress."
The organization was founded in 2012 with the goal of providing a unified voice for women in the industry, as well as supporting the recruitment and retention of women in the solar workforce. Women in Solar Energy formalized its non-profit status this year, recently launching a campaign to raise $100,000 by the end of 2014. SEIA has taken the lead and provided the group a large corporate donation, earning the Founding Member designation and setting an example for the industry.
"SEIA is demonstrating that a real commitment to this issue requires dedicated resources to support a mainstay organization in the industry. We are thrilled that they have stepped up and answered our call to action. We hope that other industry leaders will follow suit," said Kristen Nicole, Women in Solar Energy's executive director.
As part of their participation in Women in Solar Energy, SEIA employees will become individual members of the organization with access to a host of resources for women in solar, including access to the Women in Solar Energy mentorship program, job board and SheSpeaks Solar program. The two organizations sponsored a technical session and industry panel at PV America in June and will host a webinar on the partnership in August.
According to The Solar Foundation, women already make up 18.7 percent of the solar workforce, but the new organization is committed to substantially increasing that number.
About SEIA:
Celebrating its 40th anniversary in 2014, the Solar Energy Industries Association® is the national trade association of the U.S. solar energy industry. Through advocacy and education, SEIA® is building a strong solar industry to power America. As the voice of the industry, SEIA works with its 1,000 member companies to champion the use of clean, affordable solar in America by expanding markets, removing market barriers, strengthening the industry and educating the public on the benefits of solar energy. Visit SEIA online at www.seia.org.
About Women in Solar Energy:
Women in Solar Energy is a 501(c)3 nonprofit membership organization focused on advancing women in all aspects of the solar energy industry. Solar companies interested in becoming a Founding Member or supporting the organization through corporate donation should contact Kristen Nicole directly at kristen@solwomen.org. For more information, please visit www.solwomen.org.
Featured Product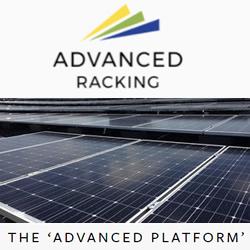 The 'Advanced Platform' simplifies the installation process by using universal mounting hardware that works perfectly across all roof types. Smart roof connection kits then connect to the specific roof's surface. The Advanced Platform is versatile: Our common design can be your single solution for all roof types.