The USDA's grants and cooperative agreements will support the development of eleven state wood energy teams and nine biomass energy projects
The Biomass Thermal Energy Council (BTEC) welcomed the U.S. Department of Agriculture's (USDA) announcement today awarding more than $2.5 million in grants to develop wood energy teams in eleven states and an additional $1.25 million for nine wood energy projects.

In a statement, Secretary Vilsack noted that, "Renewable wood energy is part of the Obama Administration's 'all of the above' energy strategy. Working with our partners, the Forest Service is supporting development of wood energy projects that promote sound forest management, expand regional economies and create new rural jobs."
These federal funds leverage more than $4.5 million in investments from USDA partners that will bring together state, federal, and private actors under the guidance of State Wood Energy Teams to stimulate the development of additional wood energy projects. The Secretary also announced more than $1.25 million for Wood-to-Energy projects to encourage the utilization of material from National Forest System lands, such as beetle-killed trees, improve forest health, and aid in wildfire prevention. The full list of recipients for both the State Wood Energy Teams and Wood-to-Energy grants are available at http://www.fs.fed.us/na/grants/index.shtml.
"Today's awards are a wise investment in renewable and affordable biomass thermal energy for communities across the country," said Joseph Seymour, BTEC Executive Director. "We praise the USDA for its leadership on biomass thermal project development and forest stewardship. These State Wood Energy Teams and energy projects will result in cost savings for businesses, institutions, and communities that rely on volatile and high priced heating fuels like oil and propane."
The eleven State Wood Energy Teams funded today join the list of the five teams funded in 2013, including Alaska, California, Idaho, Minnesota, and New Hampshire. A majority of activities of the existing state teams have focused on identifying biomass thermal opportunities in their states such as providing feasibility assistance and offering project grants.
"This is yet another example of the successful dialogue between the states, resource advocates, the U.S. Forest Service, and the USDA to deploy efficient, modern biomass thermal systems," continued Seymour. "BTEC congratulates the recipients and pledges its support to the 16 State Wood Energy Teams to help coordinate and share best practices in our common goal of achieving a better way to heat."
Featured Product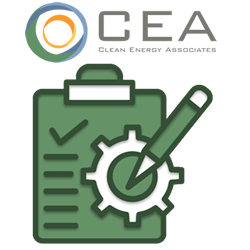 Clean Energy Associates provides a complete quality assurance solution that covers the entire product lifecycle of PV modules, storage systems, and every Balance of Sy stem (BOS) component. CEA's experienced on-the-ground and international team of quality control engineers and account managers offer an unparalleled quality assurance presence that can protect solar and storage investments and ensure future energy-producing viability for the life of the product.