Coalition for American Solar Manufacturing includes nearly 200 downstream U.S. employers, such as installers and distributors
HILLSBORO, Ore., July 15, 2014 – The membership of the Coalition for American Solar Manufacturing (CASM) – a broad consortium of U.S. solar-industry employers that supports domestic manufacturing, sustainable production and fair competition and trade – has grown to more than 250 employers of nearly 25,000 American workers, according to SolarWorld, the coalition's leader.

This membership spans all industry phases, including manufacturing, but about three-quarters of members are downstream firms, such as solar installers, distributors and integrators, according to SolarWorld. In fact, CASM includes more than two times as many such businesses as the entire membership of an opposing coalition, which, according to SolarWorld, erroneously claims to represent them.
CASM members have publicly identified themselves and their reasons for their support for CASM on the members section of its website.
Van Meter Inc., an 86-year-old electrical and mechanical distributorship and employee of 400 Americans based in Cedar Rapids, Iowa , recently registered its support, taking its lead from the heavily agricultural market that it serves, according to Karmen Wilhelm, director of energy services and solutions. Practical-minded farmers are stewards of the land, air and water they use to grow food, Wilhelm said, and they embrace the sound logic of local and domestic supply and production for local consumption, especially those provided according to high U.S. standards.
"Solar is one of the fastest-growing industries in the United States," Wilhelm says. "As electric rates continue to climb and environmental concerns mount, some predict solar will someday be the single largest source of electricity generation in our country. Faced with this prospective scenario, it makes perfect economic sense to support domestic manufacturing of solar panels as well as international trade policies that promote fair and healthy competition."
While some CASM members employ thousands of Americans, many members are long-time medium-size installation businesses or even small installers, such as Sawmill Solar Electric, based in Kern County in Central California.
"We believe that it's important for our country and our customers to know that they're getting a quality product, and we've found domestically produced product outlasts foreign product," co-owner Margaret Redman said. "It's also important for our customers to know that they can count on a manufacturer to stand by its product by actually producing in the U.S. market."
CASM has supported SolarWorld's campaign to restore fair competition within the U.S. solar market since the company filed anti-subsidy and anti-dumping petitions against the state-controlled Chinese solar industry in late 2011. In December 2012, the U.S. government imposed duties averaging 31 percent on Chinese solar imports.
Chinese solar producers circumvented those duties through a loophole in the trade-remedy order, enabling them to avoid tariffs by outsourcing solar cell production, particularly to Taiwan, according to SolarWorld. To close the loophole, SolarWorld filed new trade cases against China and Taiwan on Dec. 31. In a preliminary anti-dumping determination on June 4, Commerce imposed preliminary subsidy duties against China averaging 27 percent. The agency is expected to announce its preliminary determination on anti-dumping duties on July 25.
With its trade cases, SolarWorld, the largest U.S. solar manufacturer for nearly 40 years, represents the domestic solar manufacturing industry, which invented and pioneered manufacturing of the mainstay crystalline silicon technology.
SolarWorld REAL VALUE: SolarWorld manufactures and sells solar power solutions and in doing so contributes to a cleaner energy supply worldwide. As the largest solar producer in the United States and Europe, SolarWorld employs about 3,200 people and carries out production in Hillsboro, Ore., and Freiberg and Arnstadt, Germany. From the raw material silicon to solar wafers, cells and panels, SolarWorld manages all stages of production ‒ including its own research and development. The company maintains high social standards at all locations across the globe and is committed to resource- and energy-efficient production. Headquartered in Bonn, Germany, SolarWorld was founded in 1998 and has been publicly traded on the stock market since 1999. For more information, visit www.solarworld-usa.com.
Featured Product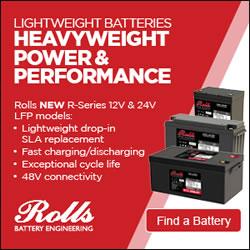 Designed for true drop-in replacement, Rolls new R-Series 12V & 24V LFP lithium models offer a maintenance-free lightweight flooded and SLA alternative in four popular BCI case sizes with fast charge/discharge capability. Rolls custom built-in BMS provides all necessary operating protections for safe operation and seamless integration for deep cycle replacement in 12V, 24V or 48V systems.