Over 13,000 people enjoyed the sunshine while attending this year's Fair.
CUSTER, WI – July 15, 2014 – The Midwest Renewable Energy Association (MREA) held its 25th Annual Energy Fair on June 20th - 22nd in Custer, WI. People from around the country came out to discuss many different aspects of renewable energy and sustainable living. At least 35 states from the United States were represented not including others from areas around the world. Over 13,000 people enjoyed the sunshine while attending this year's Fair.

MREA would like to thank all of the silent auction donors who raised $6,756.25, which will support the MREA's mission of promoting renewable energy and sustainable living. The Energy Fair was a success thanks to the speakers who gave 318 presentations, the exhibitors who represented renewables at 227 booths, sponsors, MREA members who came to support The Fair as well as the new members who joined at The Fair, the music community who kept The Fair rockin', and everyone who attended The 25th Annual Energy Fair. A special thanks to Energy Fair sponsors, whose partnerships bring The Fair to the next level. The MREA looks forward to The 26th Annual Energy Fair, June 19-21, 2015.
The Energy Fair would not happen without help from over 315 volunteers who donated their time to ensure that the event ran smoothly. People could volunteer for two hours before or during the Fair, and receive a free day pass. ĎHardcore Volunteers,' as they are termed, donate more than 12 hours before and during the Fair, and receive full weekend entry. Thank you, volunteers for all of your hard work!
Friday's keynote this year featured Marcin Jakubowski, founder of Open Source Ecology. Saturday morning George Siemon, co-founder of the Cooperative Regions of Organic Producer Pools (CROPP), more commonly known by its brands Organic Valley and Organic Prairie spoke during the Organic Valley breakfast, while the afternoon featured Michael Noble, Executive Director of Fresh Energy. Sunday, Leilani MŁnter presented on her life as a racecar driver and environmental activist. Each talked about their area of expertise, and gave much insight into living a more sustainable lifestyle. To view presentations as they become available, access MREA's website, www.midwestrenew.org.
The Midwest Renewable Energy Association (MREA) is a non-profit 501(c)(3) educational organization. Founded in 1990, the MREA promotes renewable energy, energy efficiency, and sustainable living through education and demonstration. To learn more, call 715-592-6595 or visit www.midwestrenew.org.
Featured Product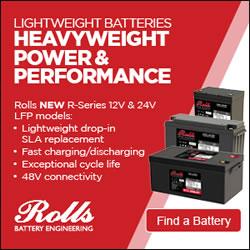 Designed for true drop-in replacement, Rolls new R-Series 12V & 24V LFP lithium models offer a maintenance-free lightweight flooded and SLA alternative in four popular BCI case sizes with fast charge/discharge capability. Rolls custom built-in BMS provides all necessary operating protections for safe operation and seamless integration for deep cycle replacement in 12V, 24V or 48V systems.