Ballard Power Systems has received a purchase order from New Flyer Industries
For Immediate Release

VANCOUVER, CANADA – Ballard Power Systems (NASDAQ: BLDP)(TSX: BLD) has received a purchase order from New Flyer Industries for the delivery of Ballard's first next-generation FCvelocity®-HD7 fuel cell power module to a North American bus manufacturer. Delivery of the power module to New Flyer Industries is planned for later this year.
The module will be utilized in a next generation New Flyer Industries fuel cell bus that will be sent to Altoona, Pennsylvania for testing and qualification prior to being deployed into revenue service under the U.S. Federal Transit Administration (FTA) National Fuel Cell Bus Program. The project will be administered by CALSTART, a member-supported organization dedicated to clean transportation alternatives.
New Flyer Industries is the leading manufacturer of heavy-duty transit buses in North America and the industry technology leader offering the broadest product line, including drive systems powered by fuel cells, clean diesel, natural gas and electric trolley as well as energy-efficient diesel-electric hybrid vehicles.
Chris Stoddart, New Flyer Industries' Vice President, Engineering said, "Ballard's next-generation fuel cell module offers simpler integration compared to earlier generations, along with the attributes that we've come to expect from Ballard fuel cell systems - power density, durability, and best-in-class engineering support."
Ballard has a long history of working with New Flyer Industries, having powered fuel cell buses in Vancouver, Chicago and the Palm Springs region dating back to the first ever prototype fuel cell bus in 1991. More recently, Ballard and New Flyer Industries partnered on the successful operation of BC Transit's fuel cell demonstration fleet of 20 buses, which ran from 2009 to 2014 in Whistler, British Columbia, accumulating nearly 4 million kilometers (2.5 million miles) in revenue service.
Steve Karaffa, Ballard Chief Commercial Officer said, "New Flyer Industries' selection of Ballard as a technology partner for its next-generation fuel cell bus is a testament to the value that our fuel cell products provide. This order is further evidence of market interest in Ballard's reliable and durable fuel cell power modules for mass transit applications."
Ballard continues to work with U.S. industry and clean transportation advocates to stimulate the use of fuel cell technology in transit buses. Increased volumes of fuel cell-powered buses are expected to support cost and price reductions through scale economies, enabling fuel cell solutions to compete more effectively with incumbent transit technologies. The FTA is playing a key role in accelerating fuel cell bus deployments and providing greater public exposure to the safe operation of zero-emission vehicles, which is leading to broader acceptance of the technology.
Ballard's FCvelocity®-HD7 features reduced parts count as well as fewer moving parts, integrated air compressor and coolant pump along with lower parasitic load. The FCvelocity®-HD7 also features fuel cell stacks manufactured using the Company's high-volume manufacturing processes.
About Ballard Power Systems
Ballard Power Systems (TSX: BLD) (NASDAQ: BLDP) provides clean energy fuel cell products enabling optimized power systems for a range of applications. Products deliver incomparable performance, durability and versatility. To learn more about Ballard, please visit www.ballard.com.
This release contains forward-looking statements concerning anticipated market growth drivers, product attributes and corresponding value propositions for our customers. These forward-looking statements reflect Ballard's current expectations as contemplated under section 27A of the Securities Act of 1933, as amended, and Section 21E of the Securities Exchange Act of 1934, as amended. Any such forward-looking statements are based on Ballard's assumptions relating to its financial forecasts and expectations regarding its product development efforts, manufacturing capacity, and market demand.
These statements involve risks and uncertainties that may cause Ballard's actual results to be materially different, including general economic and regulatory changes, detrimental reliance on third parties, successfully achieving our business plans and achieving and sustaining profitability. For a detailed discussion of these and other risk factors that could affect Ballard's future performance, please refer to Ballard's most recent Annual Information Form. Readers should not place undue reliance on Ballard's forward-looking statements and Ballard assumes no obligation to update or release any revisions to these forward looking statements, other than as required under applicable legislation.
This press release does not constitute an offer to sell or the solicitation of an offer to buy securities. The Ballard Common Shares have not been registered under the United States Securities Act of 1933, as amended, or the securities laws of any other jurisdiction and may not be offered or sold in the United States absent registration or an applicable exemption from registration requirements.
Further Information: Guy McAree +1.604.412.7919, media@ballard.com or investors@ballard.com
Featured Product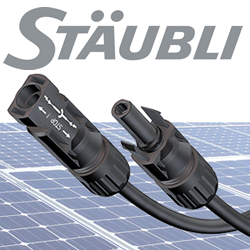 ​Stäubli Electrical Connectors are used on more than 300 GW, over 50% of the PV capacity worldwide. The MC4 family of UL and TUV listed products include connectors, in-line fuses, branch connectors, cable assembly and more.