FuelCell Energy Solutions, GmbH and Joint-Venture Partner Fraunhofer IKTS to Further Enhance Performance of Stationary Fuel Cell Power Plants
DANBURY, Conn., July 22, 2014 -- FuelCell Energy, Inc.

(Nasdaq:FCEL) a global leader in the design, manufacture, operation and
service of ultra-clean, efficient and reliable fuel cell power plants, today
announced that its affiliate FuelCell Energy Solutions, GmbH
(FCES) has received nearly [Eur]5 million in awards by Germany's Federal
Ministry for Economic Affairs and Energy to support a three year research
and development project between FCES and joint venture partner Fraunhofer
IKTS. The project targets further enhancements to the Direct FuelCell(R)
(DFC(R)) technology by increasing power density and operating life of the
fuel cells, leading to lower costs. The research is being performed in
Germany by FCES at an existing facility in Ottobrunn and by Fraunhofer IKTS
at a facility located in Dresden.
"Fraunhofer IKTS continues to undertake fuel cell research in recognition
that the attributes of high efficiency, virtual lack of emissions, low
carbon output, and ability to easily site fuel cell plants in populated
areas can help address the power generation challenges facing Germany and
many other European countries," said Prof. Dr. Alexander Michaelis, Director
of Fraunhofer IKTS. "The awards from the Federal Ministry for Economic
Affairs and Energy will help expand Germany's existing fuel cell knowledge
and assist in advancing the technology towards greater adoption that should
support economic development in Germany."
"With the support of various government organizations, strategic partners
and private industry, product, performance and system enhancements continue
on our proprietary fuel cell technology and are now being performed on three
continents; validating the global interest in our power and hydrogen
generation solutions that enhance the resiliency of power distribution in an
ultra-clean and affordable manner," said Chip Bottone, President and Chief
Executive Officer of FuelCell Energy, Inc. and Managing Director of FuelCell
Energy Solutions GmbH. "We utilize a common global technology platform so
enhancements developed under these awards can support global markets further
strengthening the attractiveness of our product offerings."
The research and development program aims to enhance the DFC(R) fuel cell
performance by increasing the power output of the fuel cell stack, making
the fuel cell power plants even more affordable based on increased power
output from the fuel cells and extended operating life for the fuel cell
stack. With growing adoption supported by this research program, enhancement
of the fuel cell manufacturing in Germany is expected to follow, leading to
job creation from manufacturing and the associated supply chain multiplier
effect.
Fuel cells electrochemically convert a fuel source into electricity and heat
in a highly efficient process that emits virtually no pollutants due to the
absence of combustion. Direct FuelCell(R) (DFC(R)) stationary power plants
utilize carbonate fuel cell technology and provide continuous baseload power
located where the power is used, including both on-site applications and
electric grid support. The combination of near-zero pollutants, modest
land-use needs, and quiet operating nature of these power plants facilitates
locating the power plants in urban locations. The power plants are fuel
flexible, capable of operating on natural gas, on-site renewable biogas, or
directed biogas.
FCES, with its German manufacturing base, is the sales, manufacturing and
service business for the European Served Area for FuelCell Energy, Inc. FCES
is a joint venture between Fraunhofer IKTS and FuelCell Energy, Inc.
Founded in 1949, Fraunhofer is Europe's largest application-oriented
research organization with an annual research budget of [Eur]1.8 billion
(approximately $2.3 billion) and more than 18,000 staff, primarily
scientists and engineers. Fraunhofer has research centers and representative
offices in Europe, USA, Asia and the Middle East, and more than 80 research
units, including 60 Fraunhofer Institutes, at different locations in
Germany. The Fraunhofer IKTS with its staff of
620 highly educated engineers, scientists and technicians is a world leading
institute in the field of advanced ceramics for high-tech applications. The
primary markets for Fraunhofer IKTS include energy and environmental
technology with a focus on fuel cell development and commercialization.
Website: www.ikts.fraunhofer.de/en.html.
About FuelCell Energy
Direct FuelCell(R) power plants are generating ultra-clean, efficient and
reliable power at more than 50 locations worldwide. With more than
300 megawatts of power generation capacity installed or in backlog, FuelCell
Energy is a global leader in providing ultra-clean baseload distributed
generation to utilities, industrial operations, universities, municipal
water treatment facilities, government installations and other customers
around the world. The Company's power plants have generated more than 1.7
billion kilowatt hours of ultra-clean power using a variety of fuels
including renewable biogas from wastewater treatment and food processing, as
well as clean natural gas. For more information, please visit
www.fuelcellenergy.com
Featured Product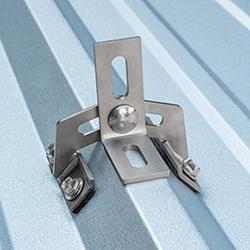 Explore new lines of income for your solar installation business with QuickBOLT's Stone Coated Steel roof mounts designed in partnership with metal roof manufacturers themselves. These SCS roof mounts work on all metal tile profiles and will help you bring in money you're missing out on. By not driving into the roofing material, QuickBOLT's Stone Coated Steel roof hooks maintain the integrity of the roof. Install with ease and confidence knowing your roof is protected against the harsh elements that these hooks are designed for.