GC Roof 15.0 Release Features Advanced Technology Wind Deflector, New Wire Management Features, Ruggedized Design
New York – July 23rd, 2014 – GameChange Racking today unveiled the GC Roof 15.0 with advanced technology wind deflector, new wire management features and ruggedized design. The system sets an industry pricing record at $0.099/watt for aluminum and stainless racks.

Features of the GC Roof System:
*Fireproof, durable aluminum components
*Wind tunnel tested by industry leader CPP and rated for 120 mph wind
*5, 10, 15 and 20° tilt options
*Available with pre-attached EPDM Slip Sheets
*Wind deflectors reduce ballast, typical loading 2.2 - 3.9 psf
Derick Botha, Director of Business Development at GameChange Racking, said:
"At Gamechange we listen to our customers to learn what they need. We are constantly innovating to improve our products to address these needs. Integrated wire management, rugged design, and fast install speed are all critical issues for PV racking.
With the GC Roof 15.0 we reworked our wind deflector to have a large air escape vent. This makes it a very rugged piece due to its new shape, and also allows any trapped wind to escape from under the panels, not only reducing ballast loading requirements, but also creating natural cooling for the panels to improve performance in summer months.
For wire management there is no system like the new GameChange Roof System. We have added lance punches to the back of every wind deflector. Not only do these wind deflectors act to set your row to row spacing, eliminating any need for an east west jig, but most importantly they now have six lance punches on them so you can attach all your wiring prior to panelizing using either stainless clips or cable ties. Then go back and panelize using just one tool from above.
Our Roof System has only two major components making installation very quick and easy. It is the fastest installing roof system on the market, period.
Our newly completed ETL/UL 2703 and 467 testing allowed us to achieve bonding using our new teethed top mount clamps, eliminating grounding strips and speeding up install.
On top of this we have now set industry record pricing starting at $.099 per watt. Combined with our fast delivery and unsurpassed customer service we are seeing dramatic growth across the country. As we continue to expand rapidly into new markets we see the demand for the GameChange Roof System increasing substantially."
Featured Product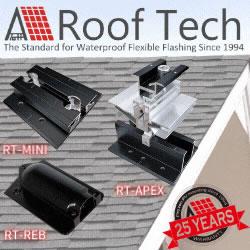 Now Roof Tech brings you the most innovative, watertight mounting systems ever developed for solar photovoltaic systems. Designed and manufactured exclusively for us by Japan's longtime leader in roofing technologies, Roof Tech products are 100% code-compliant and offer fast, simple installation and huge savings on shipping costs due to their compact, rail-less design. Learn more about our full line of versatile PV mounting solutions now available for residential installations. The next generation in rooftop solar mounting solutions."