Wind turbine manufacturer wins $700,000 for efficient manufacturing processes and scaled-up designs to drive cost savings in small wind market
PORTLAND, Maine — July 25, 2014 — Pika Energy, a Maine-based manufacturer of residential wind turbines and wind-solar hybrid systems, today announced it has been selected by the National Renewable Energy Laboratory (NREL) for two projects totaling $700,000 of funding, designed to improve the competitiveness of generating electricity from the wind. One project will focus on improving the manufacturing process for its wind turbines to reduce cost, while the second will scale up key turbine components to capture more energy.

With funding from the U.S. Department of Energy, NREL launched the Distributed Wind Turbine Competitiveness Improvement Project to help the US wind industry develop competitive, high-performance technologies needed to compete in the global distributed wind market, and to lower the levelized cost of energy (LCOE) so that it can compete with retail electricity rates. Pika Energy will upgrade its manufacturing processes for key nacelle components of the Pika T701 home wind turbine, including its innovative high-performance alternator, brake technology, and enclosures, and scale up additional components including the blades, inverter, and tower.
"Today's small wind turbines need better manufacturing processes and components to make them affordable for a broader market," said Joshua Kaufman, Director of Research and Development and co-founder of Pika Energy. "With this opportunity from NREL, Pika can lower costs, increase production capacity, and help bring distributed wind energy into the mainstream of rural America."
Pika Energy was previously selected by NREL in the first-round of the Competitiveness Improvement Project in 2012, to develop a more cost-effective blade manufacturing technique based on injection molding. This project was successful, and the molding process is currently used to make blades for Pika's T701 wind turbine, which was released in early 2014.
The Pika T701 home wind turbine is designed to provide clean electricity to grid-connected homes, and its unique REbus™ microgrid design works together with solar panels in a hybrid system to balance clean energy production all year round, day or night.
About Pika Energy
Founded in 2010 by MIT engineers, Pika Energy manufacturers a high-performance, cost-effective wind turbine for the residential market to help families cut their electric bills and reduce their environmental impact. Pika Energy's wind turbine runs on REbus™, an intelligent energy network (microgrid) technology that makes it easy to build flexible, plug-and-play clean energy systems. The company's mission is to build distributed clean energy systems that give customers faster payback on their investment. For more information, please visit: www.pika-energy.com.
Featured Product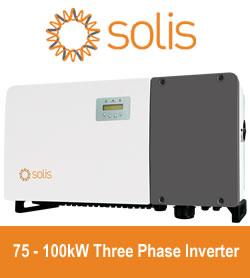 Solis75kW - 100kW series high-power string inverters are widely used in industrial and commercial rooftops. Solis's new three-phase string inverter is the first choice for industrial and commercial photovoltaics. 75-100kW three phase series string inverter have Maximum 28 strings input, support "Y" type connection in DC side. Maximum string input current 13A, support bifacial modules access.Supports anti-PID function to improve system efficiency.