Working side by side: a historical Japanese town and new-age renewable energy
Tokyo -July 25, 2014 -Solar Frontier and the town of Hiraizumi have agreed to build a 13 MW CIS megasolar ("utility-scale") power plant. Hiraizumi, located in Iwate Prefecture in north-eastern Japan, achieved UNESCO world heritage status in June 2011 for its historical temples, gardens and archaeological sites. The new megasolar plant will be located in Kagonezawa District of Hiraizumi on 35.8 hectares of land designated for commercial use.

Solar Frontier will operate and manage the megasolar power plant – a service provided by the company as part of its total system solutions offering. The electricity generated at the facility will be sold to Tohoku Electric Power Company and is expected to equal the amount of electricity consumed annually by almost all of Hiraizumi's 2,630 households*.
The project, initiated by the Hiraizumi administration, has received the support of local residents. "Through Hiraizumi's local residents, we are proving that historical sites and renewable, clean energy can exist side by side," said Masayoshi Sugawara, Mayor of Hiraizumi, who is looking to promote sustainable development of urban areas in Japan and overseas. Part of the income generated by the power plant will go toward preserving the world heritage site.
Solar Frontier's CIS modules were selected for their higher electricity yield (kWh/kWp) than crystalline silicon modules in real operating conditions, and because Solar Frontier's modules have a design that promotes snow sliding off the modules. In addition, the all-black aesthetic appearance of Solar Frontier's CIS modules fits Hiraizumi's city plan, accentuating its historical and natural advantages.
For Solar Frontier, this is also an opportunity to contribute to the local economy by working with local companies. Together with Solar Frontier's upcoming Tohoku Plant, this project demonstrates the company's strengthened presence in the Tohoku region of Japan.
Through this project, Solar Frontier and Hiraizumi are promoting the development of renewable energy in support of historical sites and urban development.
About Hiraizumi Town
The town of Hiraizumi is located in southern Iwate prefecture, 83km from the capital, Morioka city. It borders Ichinoseki city to the south and Oshu city to the north. The total area of Hiraizumi is 63.39㎢ and it is the smallest town in the prefecture. Hiraizumi enjoys convenient access, located between Morioka city and the Sendai city, the biggest city in the region. National route 4, the Tohoku Expressway and the JR Tohoku Main Line run through the town. Kitakami River runs through the center of Hiraizumi City with beautiful countryside scenery on both sides. Tabashine mountain, Otowa mountain and Kan-non mountain in the Kitakami mountain range are situated to the east of town and 100m-200m hills spread from the Ou mountains to the west. As of April 2014, 8,153 people and 2,637 households reside in the town. The agricultural industry accounts for 30% of domestic business and rice is the main crop. "Temples, Gardens and Archeological Sites Representing the Buddhist Pure Land" was registered as a World Heritage site during the committee's 35th session held in Paris, France, in June 2011. This is the Japan's 16th World Heritage location and 12th World Cultural Heritage location in Japan. The heritage sites include national treasures such as "Konjiki-Do temple" and "Motsu-ji temple," which were built spanning three generations of the Fujiwara family on the basis of peace and equality.
About Solar Frontier
Solar Frontier K.K., a 100% subsidiary of Showa Shell Sekiyu K.K. (TYO:5002) ("Solar Frontier"), has a mission to create the most economical, ecological solar energy solutions on Earth. Building on a legacy of work in solar energy since the 1970s, Solar Frontier today develops and manufactures CIS (denoting copper, indium, selenium) thin-film solar modules for customers in all sectors around the world. Solar Frontier's gigawatt-scale production facilities in Miyazaki, Japan, integrate compelling economical and ecological advantages into every module: from lower energy requirements in manufacturing to the higher overall output (kWh) of CIS in real operating conditions. Solar Frontier is headquartered in Tokyo, with offices in Europe, the U.S.A., and the Middle East. Visit www.solar-frontier.com for more information.
Featured Product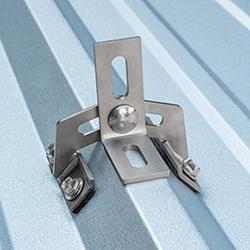 Explore new lines of income for your solar installation business with QuickBOLT's Stone Coated Steel roof mounts designed in partnership with metal roof manufacturers themselves. These SCS roof mounts work on all metal tile profiles and will help you bring in money you're missing out on. By not driving into the roofing material, QuickBOLT's Stone Coated Steel roof hooks maintain the integrity of the roof. Install with ease and confidence knowing your roof is protected against the harsh elements that these hooks are designed for.