Installation is expected to be completed in approximately eight weeks.
COLUMBUS, July 28, 2014 -- AEP Energy today began installation of a 101-kilowatt (kW) solar array on the roof of The Ohio State University's Student Life Recreation and Physical Activities Center (RPAC). AEP Energy will fund, build, own and operate the approximately 10,000-square-foot array, made up of 367 solar panels arranged in a configuration similar to the "Block O." Installation is expected to be completed in approximately eight weeks.

The solar array is valued at approximately $400,000, and the electricity produced by the array – approximately 116,000 kilowatt-hours (kWh) annually – will be supplied to Ohio State at a rate of $.04 per kWh throughout the next eight years. After eight years, Ohio State and AEP Energy may opt to enter into a renewal agreement or allow the agreement to terminate.
"We are proud to partner with Ohio State to add solar energy to its supply mix, just as AEP Energy helped bring Ohio-generated wind energy to the campus portfolio in 2012," said Greg Hall, president of AEP Energy. "The installation will include monitoring equipment that tracks the output of the system, supporting the university's sustainability efforts."
For Ohio State, the solar panel installation supports the university's goal of energy diversification and the creation of a culture that embraces sustainability.
"Ohio State is pleased to further strengthen our partnership with AEP Energy," said Kate Bartter, interim director for Ohio State's Office of Energy and Environment. "AEP Energy's investment in the solar array on the Columbus campus will help Ohio State continue to reduce its carbon footprint and, more important, will provide real and meaningful data to fuel our energy education."
AEP Energy is a Certified Retail Electric Service (CRES) provider affiliated with American Electric Power (NYSE: AEP). AEP Energy supplies electricity to business and residential customers in Ohio and other deregulated electricity markets. AEP Energy also is a retail natural gas supplier certified by the Public Utilities Commission of Ohio as a Competitive Retail Natural Gas Service (CRNGS) provider. In addition, AEP Energy offers custom energy solutions, including demand response and energy efficiency services. More information about AEP Energy is available at www.AEPenergy.com.
The Ohio State University is a dynamic community of diverse resources. Founded in 1870, Ohio State is a world-class public research university and the leading comprehensive teaching and research institution in the state of Ohio. With more than 63,000 students (including 57,000 in Columbus), the Wexner Medical Center, 14 colleges, 80 centers and 175 majors, the university offers its students tremendous breadth and depth of opportunity in the liberal arts, the sciences and the professions.
Featured Product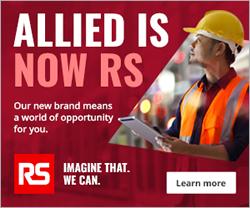 Based off the design pioneered by Anderson in 1953, the two pole SB® connectors set the standard for DC power distribution and battery connections. SB connectors feature a rugged one-piece plastic housing using stainless steel springs to retain the contacts and create the "contact force" that provides extremely low resistance enabling greater electrical efficiency. The SB connectors are also genderless (flip one 180 degrees and they will mate to each other) reducing the customer's bill of materials and providing greater economies of scale when purchasing. The SB series of connectors range in size from SB50 to the SB350. Each family size offers color-coded, mechanically keyed housings designed to prevent both visually and physically cross-mating devices with different voltages. All the connectors are UL rated to 600 volts, so the keys and colors are just identifiers to prevent accidents. Contacts are traditionally Silver plated to minimize electrical resistance while offering supreme durability and reliability.