Innovative finance provider enables solar PV on a portfolio of clinics across the Hawaiian Islands
PETALUMA, Calif. ‹ July 31, 2014‹Enphase Energy Inc. (NASDAQ:ENPH) and Technology Credit Corporation (TCC), a privately held financial products and services firm, are working together to offer financing packages for installer-integrators and customers in the small to medium commercial solar photovoltaic (PV) market.

TCC has more than 300 commercial PV systems under finance, making it one of the largest providers of small commercial financing in the United States. The firm¹s innovative financing approach, which incorporates leases and power purchase agreements that work to fast-track customer ownership of the system, has been especially successful among nonprofit customers.
³As a company that is rapidly growing its commercial solar business, Enphase actively seeks out financing partners that can help expedite the deployment of PV systems,² said Jeff Loebbaka, senior vice president of worldwide sales, marketing and customer support at Enphase. ³Financing programs for the small to medium commercial market are especially challenging and traditionally underserved. TCC¹s expertise in providing attractively priced, creatively structured financial packages to commercial installers and customers helps fill a gap in the market.²
³Enphase has an excellent reputation for superior quality solar systems and a progressive channel strategy,² said Mark Schmidt, vice president of business development at TCC. ³We invest in productive solar assets and value increased lifetime energy output, lower operating costs and comprehensive monitoring capabilities of the Enphase systems. This partnership will allow integrators to get previously hard-to-finance commercial projects funded and completed. We have already started financing solar systems with Enphase and look forward to expanding this portfolio.²
One of the growing number of new solar customers benefiting from the Enphase-TCC partnership is Mental Health Kokua, a nonprofit health organization with facilities throughout Hawaii. Local contractor Dugied Construction reviewed proposals from several finance companies before agreeing to work with TCC because of the firm¹s customer-centered business policies.
³By combining TCC¹s specially tailored financing with the Enphase microinverter-based system, we were able to install 270 KW of PV arrays on 28 of Mental Health Kokua¹s properties on four islands,² said Chantal Lonergan, president of Dugied Construction. ³Many of the buildings had unique rooflines and challenging neighboring site shading issues, so by using Enphase and the different azimuth and roof pitches, we maximized the highest output for the systems throughout the year. Ultimately, the flexibility of the program with Enphase and TCC allowed us to bring a cash-positive solution to an important nonprofit organization in our community.²
For installers and other interested parties who want to learn more about how Enphase and TCC can help expedite the financing of small to medium commercial solar PV systems.
Featured Product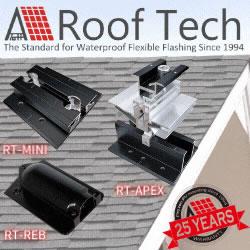 Now Roof Tech brings you the most innovative, watertight mounting systems ever developed for solar photovoltaic systems. Designed and manufactured exclusively for us by Japan's longtime leader in roofing technologies, Roof Tech products are 100% code-compliant and offer fast, simple installation and huge savings on shipping costs due to their compact, rail-less design. Learn more about our full line of versatile PV mounting solutions now available for residential installations. The next generation in rooftop solar mounting solutions."