Located in Pima County, Arizona, this large-scale solar system will be built on 500 acres of land adjacent to the Mission Mine Complex.
Shanghai, May 9, 2014 -- JinkoSolar Holding Co., Ltd. ("JinkoSolar" or the "Company") (NYSE:JKS), a global leader in the solar PV industry, today announced that it will supply 35 MW of solar PV modules to Clēnera, a leading clean energy finance and management firm, for the construction of the Avalon Solar Project. According to terms of the agreement, groundbreaking is expected to begin during the second quarter of 2014, with an anticipated completion date during the fourth quarter of 2014. Swinerton Renewable Energy will provide engineering, procurement, and construction services for the project.

Located in Pima County, Arizona, this large-scale solar system will be built on 500 acres of land adjacent to the Mission Mine Complex. The site was chosen for its compliance with an Environmental Protection Agency ("EPA") program established with the objective of constructing renewable energy projects on abandoned land, including old mining sites. The project will create up to 300 construction jobs, and will generate nearly $4 million in local property tax revenue. 114,750 pieces of JinkoSolar 305W high efficiency PV modules will be used in the project, which is expected to produce enough energy to power over 7,000 homes, saving approximately 53,000 tons of carbon dioxide (CO2)—which is comparable to removing 11,000 cars from the road. The power will be sold to Tucson Electric Power Company, helping to achieve the Arizona state mandate of 15% renewable energy generation by 2025.
"Swinerton is excited to continue our successful partnership with JinkoSolar and Clēnera—both innovative leaders in renewable energy—to bring jobs and years of clean power to Arizona residents," commented George Hershman, Vice President and Division Manager of Swinerton Renewable Energy.
"We are very pleased to work with the Clēnera and Swinerton team's again on a second US project and one of the largest solar projects in Arizona," said Mr. Nigel Cockroft, JinkoSolar's US General Manager. "Our commitment to our product's quality and outstanding service has propelled us to collaborate with these industry leaders.
About JinkoSolar Holdings Co., Ltd.
JinkoSolar is a global leader in the solar PV industry with production operations in Jiangxi and Zhejiang Provinces in China and sales and marketing offices in Shanghai and Beijing, China; Munich, Germany; Bologna, Italy; Zug, Switzerland; San Francisco, the United States; Queensland, Australia; Ontario, Canada; Singapore; Tokyo, Japan and Cape town, South Africa.
JinkoSolar has built a vertically integrated solar product value chain, with an integrated annual capacity of approximately 2.0 GW each for silicon ingots, wafers and solar cells and approximately 2.1 GW for solar modules, as of March 31, 2014. JinkoSolar sells electricity in China and distributes its solar products to a diversified customer base in the global PV market, including Germany, Italy, Belgium, Spain, the United States, Eastern Europe, China, India, Japan, South Africa, and other countries and regions.
To find out more, please see: www.jinkosolar.com
Featured Product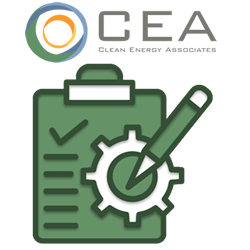 Clean Energy Associates provides a complete quality assurance solution that covers the entire product lifecycle of PV modules, storage systems, and every Balance of Sy stem (BOS) component. CEA's experienced on-the-ground and international team of quality control engineers and account managers offer an unparalleled quality assurance presence that can protect solar and storage investments and ensure future energy-producing viability for the life of the product.