Conversation to Target State and Federal Policies and the Role of Utility Business Models in Bringing More Clean Energy to Consumers
Las Vegas, NV — "National Clean Energy Summit 7.0: Partnership & Progress" is pleased to announce the addition of a panel of influential utility business executives, who will discuss the role of utilities to supplying consumers with clean and renewable energy, to the seventh annual conference at Mandalay Bay Resort & Casino in Las Vegas on September 4. These market leaders will join Senate Majority Leader Harry Reid and keynote speaker former Secretary of State Hillary Rodham Clinton along with other top policymakers to generate ideas that bring the public and private sectors together to further the growth of our clean energy economy.

Moderated by Amory Lovins, co-founder of non-profit Rocky Mountain Institute, the "Grid Partnership" panel will explore the role utility companies play in the development and transmission of clean energy resources and discuss ways to make the electric grid more robust, resilient and able to accommodate more renewable energy. In addition, the panel will also consider whether current federal and state energy policies are adequate for taking advantage of the nation's abundant clean energy resources.
Panelists include Paul Caudill, President of NV Energy, a public utility company generating and distributing electricity in Nevada; Lynn Good, President and CEO of Duke Energy, the largest electric power holding company in the nation that also provides natural gas; and Patricia Wagner, President and CEO of Sempra U.S. Gas & Power, a company that focuses on zero and low-emission fuels and operates one of the largest photovoltaic solar facilities in the U.S.
Recognized as the nation's foremost clean energy conversation, this year's summit aims to highlight how the private sector and government collaborate to deploy clean energy, invest in innovation, modernize our nation's electric grid, and reduce climate changing pollution.
The annual conference is co-sponsored by Senate Majority Leader Harry Reid (D-NV), Center for American Progress, the Clean Energy Project, MGM Resorts International and the University of Nevada, Las Vegas. Clean energy visionaries, business leaders, public officials, and advocates will convene this year to discuss the future of our nation's clean energy economy and the progress we have made through innovation, investment in infrastructure, and greater collaboration.
WHO: "National Clean Energy Summit 7.0: Partnership and Progress" confirmed speakers include:
• Former Secretary of State Hillary Rodham Clinton
• Senate Majority Leader Harry Reid (D-NV)
• Tom Vilsack, Secretary of Agriculture
• John Podesta, Counselor to President Obama
• Jon Huntsman, former Governor of Utah
• Henry Cisneros, former Secretary of the U.S. Department of Housing and Urban Development (HUD) and Risky Business Committee Member
• Jim Murren, MGM Resorts International
• Neera Tanden, President, Center for American Progress
• Rose McKinney-James, Clean Energy Project
• Billy Parish, Mosaic
• Lyndon Rive, SolarCity
• Matt Rogers, Nest Labs
• Daniel Yates, Opower
• Amory Lovins, Rocky Mountain Institute
• Paul Caudill, NV Energy
• Lynn Good, Duke Energy
• Patricia Wagner, Sempra U.S. Gas & Power
More speakers to be announced soon.
WHEN: Thursday, September 4, 2014
9 a.m. – 6 p.m.
WHERE: Mandalay Bay Resort & Casino
3950 S. Las Vegas Blvd.
Las Vegas, NV 89119
REGISTER: To register for Summit 7.0 and for the latest information about the panels and panelists, please visit www.cleanenergysummit.org
# # #
Featured Product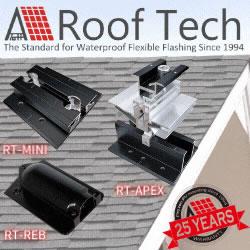 Now Roof Tech brings you the most innovative, watertight mounting systems ever developed for solar photovoltaic systems. Designed and manufactured exclusively for us by Japan's longtime leader in roofing technologies, Roof Tech products are 100% code-compliant and offer fast, simple installation and huge savings on shipping costs due to their compact, rail-less design. Learn more about our full line of versatile PV mounting solutions now available for residential installations. The next generation in rooftop solar mounting solutions."