Solar 3D Analyst Report by BrokerBank Securities, Inc.
NEW YORK, Aug. 11, 2014 -- Solar 3D, Inc. (OTCQB: SLTD) is a leading provider of solar power solutions and the developer of a proprietary high efficiency solar cell. The company's SUNworks division focuses on the design, installation and management of solar power systems for commercial, agricultural and residential customers. Solar installations reached their highest levels ever in the 4th quarter of 2013.

SUNworks has a new solar power technology in the works. SLTD is finally able to consolidate the financial data of SUNworks, which it acquired in January, 2014, with its own. The combined companies have transformed SLTD from a strictly developmental enterprise to a revenue generating company.
A full report on SLTD that includes risk factors, financial position, potential revenues, and review of current business model, management and analyst summary, can be viewed by using the following link:
http://bit.ly/-SLTD-AnalystReport
Featured Product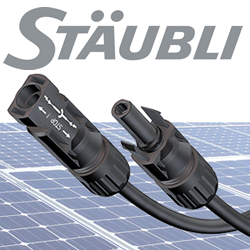 ​Stäubli Electrical Connectors are used on more than 300 GW, over 50% of the PV capacity worldwide. The MC4 family of UL and TUV listed products include connectors, in-line fuses, branch connectors, cable assembly and more.