6th Annual Event in Atlanta Offers Broad Solar Policy Overview
ATLANTA, Aug. 20, 2014 -- On Thursday, Sept. 11, 2014, Keynote Speaker Barry Shear, CEO of Eagle Point Solar, will detail his two-year legal struggle to provide third-party power in Iowa at the 6th Annual Southern Solar Summit. The event will take place in the GTRI Conference Center at 250 14th St, NW, Atlanta, GA. The Eagle Point case went all the way to the state supreme court and was hailed nationwide as an important stride forward for solar energy.

Since founding Eagle Point Solar in Dubuque Iowa four years ago, Barry Shear has earned a wide reputation as a vigorous advocate for solar energy. He feels that energy from renewable sources is the Industrial Revolution of the 21st century.
Prior to forming Eagle Point Solar, he was part owner and CEO of Help at Home and Oxford Healthcare, a large homecare provider that provided 25 million hours of care with 170 operating units in 13 states and 13,000 employees. He began his business career as a consultant specializing in turning around troubled and underperforming companies throughout the country.
In addition to the keynote address, the daylong agenda includes lots of information about what's happening in the Southeast. Ervan Hancock of Georgia Power will discuss the company's perspective on the state of Georgia's power generation. A panel moderated by James Marlow of Radiance Solar in Atlanta will highlight solar energy's role solar in rural economic development. And William Ewing of Barnes & Thornberg will lead a lively discussion panel on what lenders look for in solar investment. Arnall Golden Gregory Partner John Gornall and CohnReznick Senior Manager Lee Peterson will discuss solar development tax issues.
Atlanta Sustainability Director Denise Quarles will address the Summit on the city's sustainability program. Four of Georgia's five Public Service Commissioners also will offer their insights. Former Public Service Commissioner Bobby Baker, now an attorney with Freeman Mathis & Gary, will moderate a panel of Georgia lawmakers as they discuss the prospects for solar in 2015.
Southface will be on hand to update the Summit on efforts to gather information about renewable energy's economic impact. Grant Reeves, senior VP of the InterTech Group, who was among the leading advocates for South Carolina's recently approved solar leasing policy, will detail how the negotiations evolved.
Go to www.gasolar.org today for more details and to reserve your seat.
Featured Product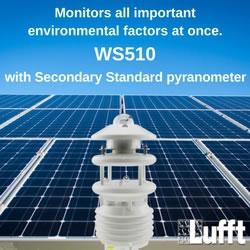 Professional weather sensors form the heart of large solar plants supporting their operation and performance. Lufft was the first manufacturer to combine several sensors in one housing, bringing the largest multiparameter weather sensor family with 19 members into being. Many of them are well-suited for solar site assessment and continuous monitoring. The most commonly used one is the WS600 delivering data on temperature, air pressure, wind, relative humidity and precipitation. Through its open protocol, it can easily be attached to radiation sensors e.g. from Kipp&Zonen. Other models have an integrated Silicon, Second Class or Secondary Standard radiation sensor.