India's Burgeoning Solar and Wind Energy Markets to Boost Employment, Finance a Concern – Mr. Suresh Prabhu
New Delhi (25 August 2014) – Mr. Suresh P. Prabhu, head of the Advisory Group for Integrated Development of Power, Coal and Renewable Energy, and former Union Minister, released a series of reports on Renewable Energy Jobs and Finance published by the Natural Resources Defense Council (NRDC) and the Council on Energy, Environment and Water (CEEW) in New Delhi today. These reports are
the first independent, external analysis of the employment opportunities for India solar energy and wind energy markets and draw from extensive discussions with stakeholders, and research and analysis of national, state and international programs. The reports also include an assessment of domestic and international opportunities to fund clean energy in India.

According to NRDC-CEEW analysis, India's solar and wind programs have catalysed rapid growth providing much needed energy access, creating employment opportunities for India's workforce. The analysis also finds that deployment of innovative financing solutions is needed in order to scale India's renewable energy markets and widespread job creation.

"Energy access and clean energy development is a national priority," said Mr. Prabhu while delivering the keynote address, "Solar and wind energy provides a tremendous opportunity to provide light to Indian homes and jobs to local communities."

The Indian solar industry has been maturing at a rapid pace, growing more than a hundredfold in four years to reach over 2.6 gigawatts (GW) of installed capacity in 2014. India is the world's 5th largest wind energy producer, with over 20 GW of installed capacity. Key findings from the NRDC-CEEW reports are as follows:

Key Findings from Renewable Energy Jobs in India

ˇ Solar photovoltaic (PV) projects commissioned in India between 2011 and 2014 created approximately 24,000 full time equivalent (FTE) jobs: smaller projects up to 5 MW in size may provide the most employment opportunities per MW

ˇ Along with various estimates of job creation in the wind sector, grid-connected renewable energy is estimated to have created nearly 70,000 FTE jobs in India so far

ˇ Majority of jobs created by solar PV plants are generated during construction and commissioning: in case of Kiran Energy's 20 MW Solar Plant in Rajasthan, 180 FTE jobs were created during the first year

ˇ Local communities are the main beneficiaries of employment of wind power projects during the operations and maintenance phase: out of a total of 438 FTE jobs created by the Gamesa-Renew Power 85 MW wind power project in Maharashtra, one-fifth of the jobs were generated for locals in semiskilled and unskilled roles

[Description: MacBook:Users:apple:Downloads:Screen Shot 2014-08-25 at 11.10.48 am.png] Person-days per mw generated during each phase of a solar PV project


ˇ Solar and wind companies must demonstrate greater transparency on jobs data: this will aid business and policy makers to formulate better
policies and programs; and showcase the importance of renewable energy to the local economy

ˇ Rooftop solar PV presents a viable alternative to diesel backup power for companies. It also generates local skilled employment. Hero MotoCorp,
the world's largest motorcycle manufacturer, have installed a 80 kW rooftop PV project in Haryana Key Recommendations for Renewable Energy Finance in
India

ˇ Use generation based incentives and penalties in combination with any form of viability gap or tax related capital subsidies

ˇ Indian government should boost financing for renewable energy projects by improving access to low cost finance, using diverse financial mechanisms such as infrastructure debt funds, priority sector lending and tax incentives (such as accelerated depreciation and tradable tax certificates)

ˇ Enhance investors' confidence in renewable energy by strict enforcement of Renewable Purchase Obligations (RPOs) and nurturing the Renewable Energy Certificate (REC) market

ˇ Consider developing a green bank and green bonds (capitalised through the National Clean Energy Fund, issued by the central or state governments)
to leverage more private investment in renewable energy "Clean energy development is vital to economic growth in India," said Anjali Jaiswal, Director of Natural Resources Defense Council's India Initiative.
"While the National Solar Mission and the proposed National Wind Mission still face significant hurdles, India has already made important strides to attract new domestic and international players into the market and generate local jobs."

Dr. Arunabha Ghosh, CEO of CEEW, an independent think-tank, added, "As nations race to become clean energy leaders, governments around the world will be closely following the progress of India's renewable energy revolution. It is essential that the Indian government adapts its strategy to boost confidence in projects and spur investment from a variety of funding sources and financial institutions."

Featured Product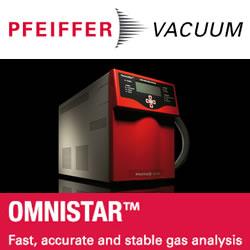 The Pfeiffer Vacuum OmniStar benchtop analysis system offers you a compact footprint, powerful software and Ethernet connectivity. It's the optimum solution for many real-time gas analysis applications. With the OmniStar, Pfeiffer Vacuum offers you a complete solution for gas analysis, in chemical processes, semiconductor industry, metallurgy, fermentation, catalysis, laser technology and environmental analysis. The turnkey OmniStar gas analysis system consists of heated, temperature-regulated gas inlet system, Quadrupole mass spectrometer, a dry diaphragm vacuum pump and HiPace turbopump. Unlike competing methods such as FTIR, OmniStar is suitable for qualitative and quantitative analysis of most gases.