Achieved 1GW of wind energy in Brazil with 381 new wind turbines connected to the grid in the first half of 2014 ----Produced 1,000th wind turbine hub locally in Brazil by skilled workers ----Expanded Campinas, Sao Paulo facility to produce first machine heads later this year
Rio de Janeiro, BRAZIL—August 26, 2014—GE (NYSE: GE) announced today it has achieved a total installed capacity of 1 gigawatt (GW) of wind energy in Brazil. During the first half of 2014, GE connected 381 wind turbines to the grid in Brazil, providing 600 megawatts (MW) of capacity to the country. In one week alone, GE connected 184 of these wind turbines for wind farm developer Renova Energia.

"GE's commitment to executing wind projects with such efficiency and expertise provides immense value to us," said Mathias Becker, chief executive officer for Renova. "As a developer, it helps us expand the reach of renewable energy around the country quicker and more reliably."
Serveng, another wind farm developer in Brazil, received 106 newly connected GE wind turbines in March.
"Our GE turbines have been operating with an availability rate which has provided critical value during the first few months of operation," said Mario Silva, director at Serveng. GE's global fleet of wind turbines operates at an availability of 98 percent.
This week, the Brazilian wind energy association ABEEólica announced that Brazil has reached 5GW of installed wind capacity, a number that is expected to triple by 2018.
"Wind energy remains one of Brazil's fastest growing energy sources, and our advanced technology turbines provide strong reliability and availability for our customers in the region," said Jean-Claude Robert, general manager of Latin America for GE's renewable energy business.
Local Manufacturing Milestones
Today, GE also announced it produced its 1,000th wind turbine hub in Brazil, which was delivered to Contour Global as part of an 800MW contract with GE in the country. The hub connects the rotor to the tower and nacelle of the wind turbine.
"Contour Global selected GE because of the reliability and excellent execution we have seen with the installation of our previous 160MW of GE wind turbines, which allows us to feel confident about the future of our projects in Brazil," said Alessandra Marinheiro, chief executive officer for Contour Global Latin America.
GE is set to produce its first wind turbine machine head, or nacelle, from a newly expanded manufacturing facility in Campinas, Sao Paulo later this year. Additionally, the company opened the second of two new service centers in Brazil in the state of Rio Grande do Norte in June, as part of a $1.5 million investment in Brazil that will create over one hundred skilled jobs.
GE has had a presence in Brazil since 1919 and, today, employs more than 8,800 people in the country. The company has operations throughout Brazil, including in Bahia, São Paulo, Minas Gerais and Rio de Janeiro and has expanded manufacturing and services centers around the country. The local team uses GE's global expertise of engineers, field service technicians and logistics excellence to provide the highest quality and strongest execution is on point for customers in Brazil.
About GE
GE (NYSE: GE) works on things that matter. The best people and the best technologies taking on the toughest challenges. Finding solutions in energy, health and home, transportation and finance. Building, powering, moving and curing the world. Not just imagining. Doing. GE works. For more information, visit the company's website at www.ge.com.
About GE Power & Water
GE Power & Water provides customers with a broad array of power generation, energy delivery and water process technologies to solve their challenges locally. Power & Water works in all areas of the energy industry including renewable resources such as wind and solar; biogas and alternative fuels; and coal, oil, natural gas and nuclear energy. The business also develops advanced technologies to help solve the world's most complex challenges related to water availability and quality. Power & Water's six business units include Distributed Power, Nuclear Energy, Power Generation Products, Power Generation Services, Renewable Energy and Water & Process Technologies. Headquartered in Schenectady, N.Y., Power & Water is GE's largest industrial business.
Follow GE Power & Water and GE's renewables business on Twitter @GE_PowerWater and @GErenewables.
Featured Product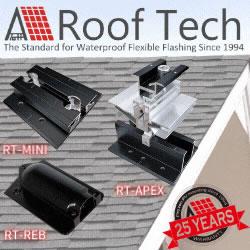 Now Roof Tech brings you the most innovative, watertight mounting systems ever developed for solar photovoltaic systems. Designed and manufactured exclusively for us by Japan's longtime leader in roofing technologies, Roof Tech products are 100% code-compliant and offer fast, simple installation and huge savings on shipping costs due to their compact, rail-less design. Learn more about our full line of versatile PV mounting solutions now available for residential installations. The next generation in rooftop solar mounting solutions."