Adopted by the World Energy Council as their African regional event, AEI receives global recognition as the foremost African event for energy professionals from across the globe. Presented by SANEA in association with WEC, and supported by the African Union and the NPCA, the forum has achieved the highest level of endorsement and support of any energy event on the continent.
28 August 2014 - The global energy landscape is constantly changing as energy becomes a scarcer, more expensive commodity and the world becomes smaller and more environmentally conscious. Events that bring together global and national energy leaders have a responsibility to set programmes that will cut through superficial agendas that turn out to be mere talk-shops and bring stakeholders together to find strategic and tangible solutions for Africa's energy requirements.

Unlike other events that call for conference papers and speakers, the programme of the annual Africa Energy Indaba is set by an international steering committee, which boasts members from the World Energy Council (WEC), the South African National Energy Association (SANEA), the NEPAD Planning & Coordinating Agency (NPCA), government representatives and industry leaders from various energy sectors such as the oil, gas and renewables sectors.
The annual Africa Energy Indaba (AEI) is not just another energy event organised by an event company that knows little about the energy sector, every detail of the event is directed by the elected panel of energy experts, which meets throughout the year to plan the topics that will be debated at the annual Johannesburg conference.
Adopted by the World Energy Council as their African regional event, AEI receives global recognition as the foremost African event for energy professionals from across the globe. Presented by SANEA in association with WEC, and supported by the African Union and the NPCA, the forum has achieved the highest level of endorsement and support of any energy event on the continent.
"We are exceptionally proud of our steering committee model, which has given our event the credibility and reputation it has achieved. With representation from the WEC, SANEA and the NPCA for the 2015 event, we are looking forward to greater African representation and increased delegate numbers at our February 2015 conference and exhibition," says Liz Hart, Managing Director of Siyenza, the organisers of the event.
The topics for the 2015 event are not merely a repackaging of the previous years' topics, but are cutting edge and exploratory topics that are particularly important to the African context. The issues of energy efficiency technologies of the future, Africa's low carbon development, the next frontiers of energy growth on the continent, geothermal energy and the realisation of gas potential in Sub-Saharan Africa are all topic examples that are currently being grappled with by Africa's energy industry players.
The two-day Energy Indaba will be held from the 17th – 18th February 2015 at the Sandton Convention Centre in Johannesburg, South Africa. A number of side events will run alongside the conference and exhibition, which include the World Energy Council's invitation-only Global Energy Leaders' Dialogue, a Women in Energy Forum, an IPP & PPA workshop, an Electricity Theft session and an Energy Efficiency workshop.
The topics that the steering committee for 2015 have chosen include:
1) Making a difference in Africa through geothermal energy
The energy crisis and the drive for renewable energy generation have given rise to new interest in generating energy from heat that is readily available from the earth. The Renewable Energy Policy Network for the 21st Century (REN21) says that as the renewable energy market continues to broaden, a significant acceleration in geothermal installations is expected, with advanced technologies enabling the development of geothermal power projects in new countries. It has been very cost-effective in the Great Rift Valley of Kenya, which was the first African country to build geothermal energy sources. By 2030 Kenya aims to have 5,530MW of geothermal power or 26% of total capacity. This will make it Kenya's largest source of electricity clean energy by 2030.
2) Into the future, energy efficiency technologies and implementation
As the world faces increasing environmental and economic challenges, it has become more important for nations to find ways of securing energy that is efficient, affordable and clean. This drive for energy self-sufficiency is spurring the development of new energy efficient technologies and huge investment into this sector. Clearly energy efficiency brings economic benefits in that the same process output is obtained for less input. This is achieved through technology upgrades or through behavioural and process changes. But if the benefits seem so obvious why have Africans been slow to implement such programmes? Are there unintended consequences that we need to be aware of? Do such programmes deliver real energy savings and do they translate in terms of enhanced economic performance?
3) Renewable Energy and low carbon energy development in Africa – challenges, opportunities and the way forward (hydro / solar / nuclear / wind)
According to the United Nations Economic Commission on Africa, the scientific and observable evidence of climate change is unequivocal. Climate change mitigation measures have been slow and sparse. A low carbon development pathway allows for increased resilience to the physical impacts of climate change and provides Africa with the opportunity to avoid "locking-in" carbon-intensive technologies into future development. Does such an alternative route allow Africa to meet its objectives of poverty reduction, economic growth and the enhancement of human wellbeing? Will low carbon development in Africa also offer the opportunity for Africa to build its own technical capacity and join the 'new development' race as a competitive player?
Panel 4: Oil & natural gas in Africa, the next frontier of growth for Africa
Natural resource development, with oil and natural gas in particular, is a "foundational" element of economic growth and development. It presents governments with a prime opportunity to create employment, infrastructure development and aids the improvement of a nation's broader social well-being. Africa is currently a small but growing part of the global gas picture. With relatively open access and generally attractive leasing terms, Africa's oil and natural gas resources have attracted a broad spectrum of investors — from the large integrated, international majors, to the large and small independent exploration and production (E&P) companies, as well as national oil companies (NOCs) from outside the region. Does natural gas development hold tremendous opportunity for Africa, and can it be a strong "prime mover" for broader economic and social development? Most importantly though, while the opportunities for Africa presented by the Golden Age of Gas may be enormous, can the challenges and risks can be addressed and mitigated, if not fully overcome?
Panel 5: Insights into unlocking finance for the development of energy projects in Africa
Africa is an attractive investment destination for multiple reasons. Returns are attractive, and the need for global diversification as traditional markets decline has made emerging markets attractive destinations. Other factors that make Africa attractive are the certainty of its increasing energy demand, the speed of general African economic growth and the desire of investors to gain a foothold in future lucrative markets. However investing in Africa is not without its challenges. Can South Africa's successful Renewable Energy Independent Power Producer's Procurement Programme (REIPPPP) provide important lessons for other African nations on how the right policies that provide certainty and a clear framework, can unlock finance for the development of energy projects? Are there other critical success factors that need to be addressed to unlock finance for Africa's development?
Panel 6: Skills development needed for Africa's future energy demands
African countries are working towards improving the quality and skills levels of their labour forces.
Investing in knowledge and skills is seen by many governments as the cornerstone of developing an employable and globally competitive workforce. This improves the investment climate because skilled workers create an attractive economic environment for investors. The returns to increasing investments in skills development tend to be high in rapidly growing economies, and can be low or non-existent in situations characterised by weak growth and poor governance. Ultimately, developing job-related competencies among the poor and the youth is recognised as crucial to reducing poverty. The development of job-related skills is, therefore, not only part of a nation's human resource strategies but also of their economic-growth and poverty-reduction strategies. Are there successful African programmes which provide examples of good practice? Is there an African context which needs to be considered by those seeking to develop the human potential of our continent?
Panel 7: The power of regional interconnection in Africa
Africa's regional economic integration has in the past remained secondary to domestic politics and policies, hindering state-led regional infrastructure development programmes. This halts private sector investment, leaving cross-border projects without funding or skills. Efforts toward greater continental infrastructure policy and project co-ordination have not borne enough fruit –NEPAD's Programme for Infrastructure Development in Africa (PIDA) is a case in point. The benefits of integrated infrastructure and manufacturing plans that African countries put forward are not always obvious to the private sector and plans presented to the private sector need to be attractive. Are there infrastructure success stories where the public and private sectors work together across multiple countries? What are the key elements of such programmes and can the lessons be transferred to other initiatives?
Panel 8: The development of bio-energy in Africa
The agricultural sector in most of Sub-Saharan Africa is dominated by subsistence farming. The development of modern bio-energy systems offers opportunities for investment and infrastructure improvements in agriculture with the hope of diversifying agricultural production and thereby stimulating socio-economic development. In general, many African countries have suitable conditions for bio-energy development - abundant labour, enough arable land and water resources. Several Sub-Saharan African countries are currently engaged in the formulation of policies and development plans to guide the development and ensure the sustainability of the bio-energy sector. African governments have implemented several initiatives such as agro-ecological zoning to identify land available for food and for bio-energy production and mandates for investors to use part of the allocated land to food production. What is the real potential of this technology? How will the energy-water-food nexus be managed in those countries that are starved of these resources?
Panel 9: Smart grid and energy transmission in Africa
Higher energy efficiency in Africa is possible with smart grids combined with renewable energy sources like the wind and the sun, the use of wind turbines, as well as modern energy transmission and distribution. Modern products and solutions for power transmission include high-voltage transmission solutions, high-voltage switching products and systems, and innovative direct current (DC) and alternating current (AC) transmission systems. Turnkey substations and power transformers complete the spectrum. Will these innovations in the power transmission market deliver transmission costs that are lower than with a conventional line? Will they be particularly suitable for providing stable and low-loss grid connections with renewable energy sources?
Panel 10: Energy and water are both essential for the development of Africa
According to the World Energy Issues Monitor 2013, the energy-water issue is not on top of the worldwide energy agenda. However the issue is positioned as a key uncertainty in selected regions such as Africa. The first and most visible impact of climate change is the change of water availability. Places that are currently dry and water-stressed will become drier and almost desert-like; places that are currently wet will become wetter. There are many linkages between energy and water: fracturing of oil shale and shale gas, coal power plants and CCS, coal to gas and to liquid, biofuels, hydropower, cooling towers, production of solar cells, refineries, etc. Virtually every energy technology relies on water. Is our energy system and infrastructure resilient to any changes on the water side? Water is a much more emotional issue, so if the two stand against each other, will energy lose out?
Featured Product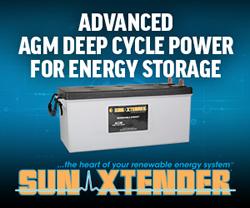 Sun Xtender® Deep Cycle AGM Batteries for renewable energy storage are manufactured in the USA by Concorde Battery Corporation and are built to the same demanding standards crucial to supporting the aircraft industry. To facilitate maximum conductivity & charge acceptance Sun Xtender® batteries are constructed with copper alloy corrosion free terminals & robust intercell connections. Endurance and optimal float life are achieved through plates thicker than the industry standard. Sun Xtender® Batteries' AGM maintenance free design is an ideal solution for off grid and grid tied systems.