New national rankings place Beaumont Solar Company, a New Bedford, MA company that has shown ten-fold growth since its formation 8 years ago, among the top solar contractors nationally, including the #2 rank in the Massachusetts Solar Market.
New Bedford, MA – Beaumont Solar Company, known in New England for providing the highest quality standards at competitive pricing on a wide variety of commercial solar projects, has ranked high on Solar Power World's industry-defining Top 400 Solar Contractor list.

The New Bedford-based company ranked on three key solar industry indicators:
• #2 on the list of Top 10 Massachusetts Solar Contractors
• #24 on the Top 100 Commercial Contractors Nationwide
• #61 on the Top 400 Solar Contractors Nationwide
"We are pleased to be recognized among the top solar contractors in the country and as a definitive leader in Massachusetts," said Beaumont Solar President and CEO Phil Cavallo. "It's even more gratifying to see Massachusetts ranked as the third largest non-residential market in the country. That's a great validation to the marketplace and represents the swell of interest in this geographic region."
According to Solar Power World, the 2014 lists rank companies based on the number of megawatts they installed in 2013, and their influence in the industry.
Beaumont Solar's past year has been driven by various achievements including an invitation for Cavallo to be a key speaker with Massachusetts Gov. Deval Patrick at his "5 Years Green Celebration," an award as New England SunPower Dealer of the Year and installation of 24.5 MW in innovative projects including 6MW ground array in Dartmouth, a 1.8MW landfill superfund site for the City of New Bedford, a 500kW revitalized brownfield at the New Bedford High School, and three Rhode Island projects awarded by National Grid, as well as various rooftop, carport, and ground array solutions throughout New England. Beaumont Solar's designs allow companies to generate 100% of the electricity they require for operations, saving them money and improving the environment.
Beaumont has also been cited for its ten-fold growth since its formation eight years ago, and for providing robust job creation, working with graduates of local vocational high schools, as well as local electricians and apprentices.
"We're very proud to be part of the success of the green energy economy and look forward to another successful year engineering, procuring and constructing solar systems throughout New England," said Cavallo. For more information on Beaumont Solar projects and jobs, visit www.beaumontsolarco.com.
About Beaumont Solar Company
Beaumont Solar is one of the leaders in the New England solar market, rising to the
top of the industry by utilizing 100% in-house staff to provide a streamlined, vertically integrated solution for customers. This philosophy allows Beaumont Solar to grow ahead of the industry pace at a 45% CAGR and at the same time do this on a profitable EBITDA basis creating a sustainable business to endure over time.
Featured Product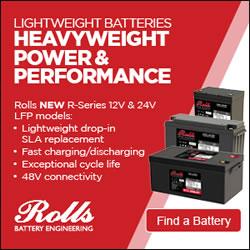 Designed for true drop-in replacement, Rolls new R-Series 12V & 24V LFP lithium models offer a maintenance-free lightweight flooded and SLA alternative in four popular BCI case sizes with fast charge/discharge capability. Rolls custom built-in BMS provides all necessary operating protections for safe operation and seamless integration for deep cycle replacement in 12V, 24V or 48V systems.