Proving that there are US solar success stories to celebrate, Solar Energy Corporation marks its 40th anniversary in the industry in 2014.
Ewing, NJ September 03, 2014

Starting from modest beginnings in a small farm building on the outskirts of Princeton, NJ, as a direct response to the 1973 oil crisis, Solar Energy Corporation (SOLEC) established itself as a science-first organization, devoting much of its time and resources to R&D, developing novel solar collector designs, sophisticated solar analysis software and high performance heat reflecting and absorbing coatings.
Since then, it has become the world leader in producing optical coatings for the solar, building, roofing, automotive, aeronautics and manufacturing industries. It has also expanded its production and laboratory capacity by relocating to its own 10,000 sqft solar heated facility in Ewing, NJ. In the 40 years since its incorporation, SOLEC's coating products have been involved in some notable projects around the globe and beyond, including:
*AREVA's Kogan Creek, Australia, and Rajasthan, India, solar concentrating arrays
*The Milagro Gamma Ray Observatory, Los Alamos National Laboratory
*The AURA Gemini Telescopes, Mauna Kea, HI, & Cerro Pachon, Chile
*The Gran Telescopio Canarias, The Canary Islands
*Montreal Canadiens Practice Facility, Complexe Sportif Bell, Montreal Canada
*Ford Taurus engine mounts
*Boeing APU exhaust ducts
*SpaceX Falcon 9 rocket and Dragon space capsule
SOLEC's SOLKOTE coating is now used to produce over 90% of the solar thermal panels manufactured in the US and is exported to over 30 countries worldwide. Its LO/MIT coating is the flagship spray-applied attic radiant heat barrier paint (IRCCS) in the US market and is currently being tested by the US Army & Air Force for use in tents and other structures to keep soldiers stationed around the globe cooler.
SOLEC's array of coating technologies benefits a wide variety of markets, providing simple, cost-effective solutions to complex heat transfer problems.
Featured Product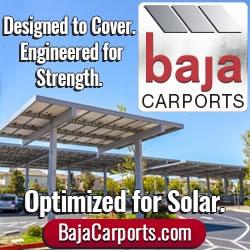 Baja Carports offers an extensive solar support system product line customized to customers' site specifications by in-house engineers, meeting their parking lot coverage, plus optimal PV production needs. Baja's Full Cantilever Tee is often paired with its Semi and Full Cantilever carports to meet live/loads up to 60psf and wind speeds to 160mph. All Baja products are pre-fabricated, bolted connections, pre-galvanized structural steel for fast on-site installation and project aesthetic requirements."