San Diego-based Baker Electric Solar performed a 7.5 kW solar system installation for Coastal Living magazine's 2014 Annual Showhouse in Coronado, California. The $7 million, 4,500-square-foot ocean-view showhouse will be featured in Coastal Living's October 2014 issue.
Baker Electric Solar, a San Diego-based solar company that designs, builds and installs photovoltaic solar power systems across Southern California, worked with Flagg Coastal Homes in the design-build of Coastal Living Magazine's 2014 Showhouse at 100 Ocean Drive in Coronado, California. Baker Electric Solar is also a proud sponsor of the Coastal Living California Showhouse. A portion of the proceeds from the July 16 through September 30 tour sales benefit the Navy SEALS Foundation.

According to an August 2014 California Solar Statistics report, the State of California leads the nation with 242,131 solar projects and 2,271 megawatts installed. It's quite fitting that the nation's first West Coast Coastal Living Showhouse includes a solar energy system. The Baker Electric Solar 7.5 kW solar system consists of 30 REC 250-watt solar panels with one, made in America, SMA Sunny Boy 7000-US inverter. The solar panels were hidden from sight on a section of the roof that covers an expansive outdoor living space on the second floor. A Quick Mount installation was used on the composite shingle roof totaling a PV surface area of approximately 450 square feet.
Factoring in utility rate increases, the Coronado showhouse homeowners are projected to save more than $122,000 on energy over 20 years by offsetting more than 60 percent of their estimated energy needs with solar. The system will reduce CO2 emissions by more than eight tons annually which is the equivalent to not driving 27,000+ miles.
Coastal Living Magazine chose to feature a California coastal home design and décor for its 2014 Showhouse. The $7 million, 4,500-square-foot ocean-view home is a collaboration of Coastal Living magazine with home by Flagship Properties and Flagg Coastal Homes, architect Lytle Design Inc., design Burnham Design, solar Baker Electric Solar, landscape TOPIA, Inc., the Navy Seal Foundation and the current owners, retired Carlsbad commercial contractor Steve Madsen and wife, Debbie.
The four bedroom, three-level ocean-view home features a formal living room and dining room, a family room and rec room, four bedrooms, four bathrooms, as well as a front porch and two sun decks which overlook the beach. The home is open to the public for tours of its interior between 10 a.m. to 4 p.m. Wednesday through Sunday. through Sept. 30. Purchase an "open" ticket -- good any time the home is open -- at the Coronado Visitor Center. No tour tickets are sold at the house itself. The $25 ticket price raises funds for the Navy SEAL Foundation.
"We are honored and proud to be the designer and installer of Coastal Living Magazine's 2014 Showhouse solar energy system," said Baker Electric Solar President Mike Teresso. "In addition to the living space, the home features a number of energy-consuming amenities, including a pool, spa, media room and underground garage. With 'going solar the Baker way,' the owners will see an immediate return on their investment with every electric bill through the 25+ year production life of the system."
For more information about Baker Electric Solar, visit http://www.bakerelectricsolar.com.
About Baker Electric Solar
San Diego-based Baker Electric Solar, designs, builds and installs photovoltaic solar power systems for new and existing homes, commercial facilities and utility-scale projects across Southern California. Baker Electric Solar is a BBB accredited business with an A+ rating. It ranked No. 1 on the Clean-Tech Companies List published by the San Diego Business Journal; No. 14 on the San Diego Business Journal's 2014 Top 100 Fastest Growing Companies list; and No. 10 on the Best Places to Work in San Diego Medium Category. It also earned the 2013 Angie's List Super Service Award and recently was named one of Solar Power World's 2014 Top 400 Solar Contractors in North America. Baker Electric Solar is San Diego's first SunPower Elite Dealer. For more information, visit http://www.bakerelectricsolar.com.
Featured Product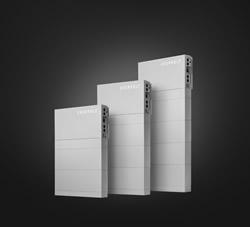 Panasonic's Total Home Energy System is built to deliver. The same battery technology we use to power the world's most advanced electric cars is now available to power your home. But it doesn't stop there. The all-in-one renewable energy system pairs Panasonic solar panels with Evervolt™ batteries to offer your customers a complete solar + storage solution, manufactured and warrantied by a company you know you can trust. In stock now.