Portland, Oregon, USA: October 1
Portland, Oregon, USA (September 3, 2014) – On Wednesday morning, October 1 from 9am-noon, the GEA Geothermal Energy Expo, being held in Hall C of the Oregon Convention Center, will be free and open to Portland area public. If you are a local business owner, university student, teacher, or government official, you are welcome to walk the 120+ booths of the world's largest geothermal gathering free of charge.

GEA's most recent Annual Production Update shows Oregon has 17 geothermal projects currently in development. The GEA Expo floor features a unique opportunity for leaders in the business to showcase their projects, equipment, services and state of the art technology to the geothermal community. This is the premier gathering to learn about the latest developments in geothermal energy. The Expo, held in tandem with the GRC Annual Meeting is being held from Sept. 28 to Oct. 1.
Geothermal energy is a firm yet flexible renewable energy source that can bring the reliability of 24/7 baseload power or complement other energy technologies by firming up more intermittent power generation. It can also provide distributed power generation from small co-production projects, with one of the smallest environmental footprints of any technology.
As one of the country's leading geothermal prospects, Oregon has spearheaded new initiatives that move to recognize the values of geothermal power, leading the industry to be optimistic that state policies such as these could spark a strong period of growth in geothermal power over the next decade. In addition, Oregon Public Utility Commission changed its current methodology for calculating standard renewable avoided cost prices that might more fairly calculate the cost of geothermal power. Southern Oregon boasts a cluster of developing geothermal power projects that fall in a highly desirable Klamath Basin that geothermal developers are actively pursuing.
It is encouraged to pre-register to attend the Expo during the open Wednesday am hours, To do so, please visit: http://www.gifttool.com/registrar/ShowEventDetails?ID=1872&EID=16295. A valid ID is required for admission.
Join the conversation on Twitter by following the GRC @GRC2001 and #GRC2014 or GEA at @geoenergist and #GEAExpo2014.
To request press credentials, please contact Shawna McGregor, The Rosen Group, 917 971 7852 or shawna@rosengrouppr.com.
About the Geothermal Energy Association: The Geothermal Energy Association (GEA) is a trade association comprised of U.S. companies who support the expanded use of geothermal energy and are developing geothermal Resources worldwide for electrical power generation and direct-heat uses. GEA advocates for public policies that will promote the development and utilization of geothermal Resources, provides a forum for the industry to discuss issues and problems, encourages research and development to improve geothermal technologies, presents industry views to governmental organizations, provides assistance for the export of geothermal goods and services, compiles statistical data about the geothermal industry, and conducts education and outreach projects. For more information, please visit www.geo-energy.org. Check out GEA's YouTube Channel. Follow GEA on Twitter. Become a fan on Facebook.
Featured Product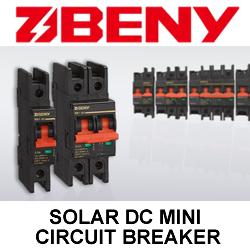 The BB1-63 modular miniature circuit-breakers can be used in solar DC circuits up to 1200 VDC (4-poles execution). Application in solar DC circuits, battery energy storage systems and UPS. Arc flash barrier design keeps solar equipment more safe and reliable. For DC circuit over-current protection.