The project, which is reported to be the first large-scale ground solar PV project in Pakistan, will be completed in 2014.
In Quaid-e-Azam Solar Energy Park in Bahawalpur of Pakistan, a 100MW solar PV project is being constructed. Powerway, one of the best known solar brands in China, is providing solar mounting systems and ground screw foundations, as well as construction services for this large project. The project, which is reported to be the first large-scale ground solar PV project in Pakistan, will be completed in 2014.

This project's Engineering, Procurement, and Construction (EPC), and Operation and Maintenance (O&M) are contracted to TBEA, a leading Chinese PV manufacturer and systems integrator. Powerway has been cooperating with TBEA from the very early stages of the project, to provide reliable cost-saving mounting system designs, pull out tests for ground screw foundations, construction plans, logistical plans, and other engineering services.
Mr. Benson Wu, Powerway's CEO said, "Thanks to Powerway's highly efficient and professional team, along with our abundant solar farm building experience, we were lucky to win the fierce competitive bidding for this project. Pakistan has an energy shortfall of 6GW, so the government has been striving recently to develop large-scale solar projects of up to 1GW. It is a very promising market.
"Powerway has made good preparations and is set up for business in Pakistan. In 2013, we signed a cooperation agreement with Nizam Energy, the leading player in the Pakistan Photovoltaic Solar Industry. They have a nationwide network of offices with reliable after sales service. This hand in hand relationship make us run quickly. Our local team, including sales, design, and engineering, knows the Pakistan market and its demand well, so we can provide comprehensive services to our customers in timely manner. Moreover, we have a series of piling machines standing by in Pakistan, because we believe that we can realize more PV developments in addition to this ongoing project. "
About Powerway:
Powerway Renewable Energy Co. Ltd , member of SinoTech Power Group, is located in Guangdong Province, China, with subsidiary companies in Japan ,South Africa, Pakistan. As a professional solar farm builder with a certificate of electrical power contracting level 3, Powerway always endeavors to provide innovative design and deliver world class operation. Committed to providing reliable and cost effective solutions and a full range of construction services to the global PV power plant market. Our core business functions includes electrical design, structural design, product supply, services of construction, installation, operation and maintenance. To date, Powerway has provided solar power products and construction services in over 27 countries and regions. Additionally, Powerway has established long-term strategic cooperation partnerships with many well-known PV enterprises all around the world. Powerway is a trustworthy brand in the photovoltaic field.
For more information, please check the website www.pvpowerway.com/en .
Featured Product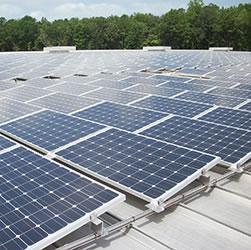 The Power Rail™ Commercial Mounting System is designed with the professional PV solar installer in mind. Both the XD/UD and LD/MD rails feature single tool assembly with the revolutionary patented RAD™ Lock-in-Place bolt for fast and secure module clamping. The high strength marine-grade aluminum rails include an integral wiring channel for securing cables and providing a professional finish.